Our range of M-X Forklifts
Get your material handling operations done quickly and safely with Manitou's M-X series all-terrain forklifts. Renowned for their durability and unprecedented lifting capacity, these high-performance machines can go where other ranges cannot. Take advantage of their sturdiness and versatility to increase your productivity!
Rough-terrain forklifts capable of traveling on all types of ground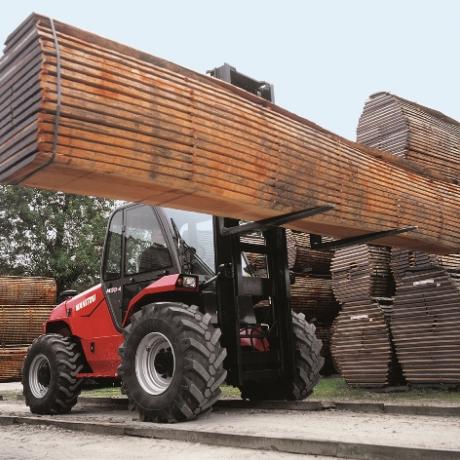 The engine power, solid design and all-terrain maneuverability, of the M-X forklifts allow these machines to help you handle loads in all ground conditions, including degraded or uneven, soft/mud or asphalt. This exceptional driving advantage is also aided by the large diameter front wheels - M-X trucks are available with 2 or 4 wheel drive depending upon your need.
Manitou rough terrain forklifts feature a tilting mast up to 15 degrees, high ground clearance and a turning radius of 3.40 meters for easier travel on congested work sites. This range also provides a lift height of up to 7 meters (depending on the model), ideal machines to work in all your heavy-duty industrial applications.
To increase the performance of the M-X machines, Manitou offers compatible attachments: tilting carriage, side shift, fork positioner... Thus, allowing you to obtain a perfect solution adapted to your handling needs.
Sawmills, auto recycling, industrial construction, material merchants, container carriers, mining...Manitou's all-terrain forklifts are essential allies on the job for many industrial fields.
Discover our range of forklift trucks
The advantages of Manitou forklifts for industry professionals
The M-X range offers 5 models of rough terrain forklifts. With their outstanding features, they offer a wide range of benefits to contractors who use them to improve productivity and achieve excellent performance.
Perfectly secured machines with optimum 360-degree visibility
Simple to operate and maintain
Easy access to the driver's cab
High working comfort thanks to the spacious, comfortable and ergonomic operator's cab
Versatile machine used in diverse applications
Unrivalled performance in the rough terrain handling solutions market
Configurable and customizable with several options and wide choice of tires and masts
Load capacities from 2.6 to 7 tons.
To optimize the use of your handling equipment, Manitou offers several support services: warranty, maintenance, spare parts, and tailor-made financing solutions. Contact our teams to finalize the purchase of your M-X all-terrain forklift compatible with your industrial activity. Every day we listen to professionals and do everything we can to facilitate their material handling projects due to the strength of our Manitou dealer network throughout the globe.
Contact our experts