Our range of MSI Forklift Trucks
Move long or bulky loads efficiently and move easily in mixed environments with MSI material handling equipment. These semi-industrial trucks have been specially designed to meet customer needs related to specific handling constraints.
Semi-industrial trolleys to transport your bulky loads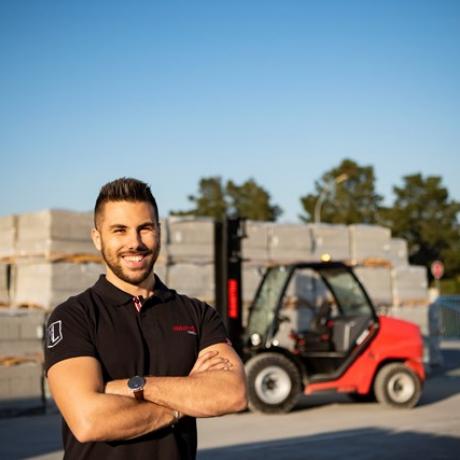 Manitou designed the first semi-industrial forklift truck on the market. Our teams took advantage of this expertise to build a range of latest generation trucks with unequaled performance.
These semi-industrial trucks provide professionals with specific handling solutions:
Loading/unloading, transport/moving long and bulky loads
Transport of loads on unstable and/or degraded soils
High precision driving and approach
Working power regulation
MSI trucks are ideal for handling specific loads. Operational whatever the nature of the terrain, they help you to carry out your various handling operations with comfort and safety.
The performance of MSI machines, their stability and versatility make them semi-industrial solutions, equally at home in a warehouse or on outdoor stockyards. Today they are suitable for applications in various sectors of activity: sawmills, paper and beverage industry, recycling of industrial and automotive waste, manufacture and distribution of palletized or bulk materials, port activities...
Semi-industrial trucks can handle all types of loads, including raw materials, timber and bulky materials. To enable you to work in spaces with limited height (such as containers), the range is also available as a buggy (overall machine height less than 2 metres).
Discover all of our forklift trucks
The advantages of MSI trucks for industry professionals
Manitou's semi-industrial forklift trucks offer a number of advantageous features. They make your daily handling work easier and improve your productivity.
Machines with a capacity of 2.5 to 5 tons depending on the model
Versatile machines capable of meeting all your needs thanks to the accessories and options available
High maneuverability, even in the tightest of spaces, thanks to the vehicle's compactness and short turning radius
A hydrostatic transmission allowing loads to be approached with millimetre accuracy
Ideal crossing capacities to optimize your handling in all storage areas
A robust and perfectly reliable design
High operating comfort and optimum visibility
Perfect safety on board.
Take advantage of Manitou's accompaniment services to obtain a semi-industrial forklift that is operational in all circumstances. Our teams are at your disposal at any time to help you choose the model best suited to your activity.
Contact Us