Our range of Skid-Steer Loaders
Optimize your excavation, construction or farming operations with Manitou skid-steer loaders. These latest generation machines meet all your requirements. Use their performance to save time in your interventions and improve your productivity!
Versatile skid-steer loaders for all your applications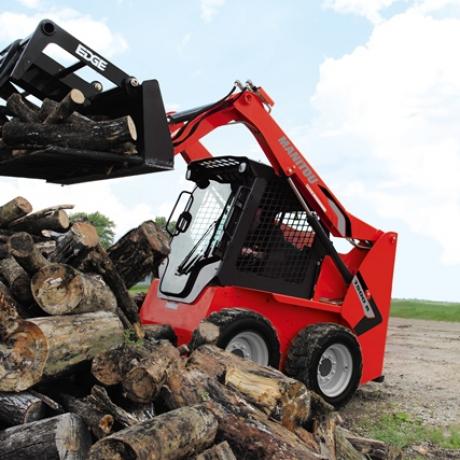 Are you looking for high-performance material handling machines to excavate soil and perform several other operations? Discover our range of skid-steer loaders.
Our range offers several models, providing ultra-compact to full-performance solutions. Two main categories of skid loaders are available: radial lift and vertical lift. Whatever the range, our machines provide ideal lifting heights for loading, transporting and stacking your materials at high heights. Opt for the equipment capable of meeting your specific needs!
With their all-terrain maneuverability, Manitou loaders can easily travel over all types of ground (muddy, uneven, uneven). Their great compactness is ideal for maneuvering with ease in cramped work areas and confined spaces. These machines also offer improved performance in terms of excavation, leveling and earth moving for applications below ground level.
Skid-steer loaders are also popular for their multi-functional use. Change attachments and get a solution for every problem. Attachments can be replaced in a matter of minutes. Several operations are possible with this versatile system: transporting pieces of wood or tubes, loading bulk (gravel, sand, earth, grain, mineral supplements, manure), feeding and silage, drilling, raking, digging below the working platform level, etc.
Discover our range of compact wheel loaders
«
In the management of my daily activity, I need high-performance equipment. I need power and maneuverability to move around on any kind of terrain. With my 1650R skid loader, I can go anywhere easily and move loads of up to 748 kg in one grab. Ruggedness, power and maneuverability, everything I like.
»
The main advantages of compact wheel loaders
2700 V, 3300 V, 4200 V, 1050 R, 1340 R, 1500 R... the different models of skid-steer loaders are used today by a large number of professionals throughout the world. These machines offer several advantages as reference handling solutions:
Comfort of use
Ease of driving
Precision of movement
Rough-terrain design
High lifting capacity
Large lifting height
High versatility
Robust and resistant structure
Customizable machine
Ergonomic driver's cab
High reliability component
Easy handling
Would you like to be accompanied in your project of renting or buying compact skid loaders? Your Manitou dealer can answer all your questions and offer you a range of support services throughout the life of your machines: servicing, maintenance, repair/replacement of original parts, tailor-made financing solutions...
Contact your dealer at any time! Our teams can also help you to choose the most suitable machines for your activity. Manitou also offers compact track loaders and backhoe loaders.
Contact us