Our range of Forks and Grabs
Are you looking for an efficient accessory to make silage for your plants, cereals and vegetables? Discover the performance of the Manitou shear grab ! Thanks to its side blade, this bucket facilitates all your cutting work. Use this top-of-the-range equipment to improve your productivity and save time in your silage work.
An ideal accessory for cutting / preparing silage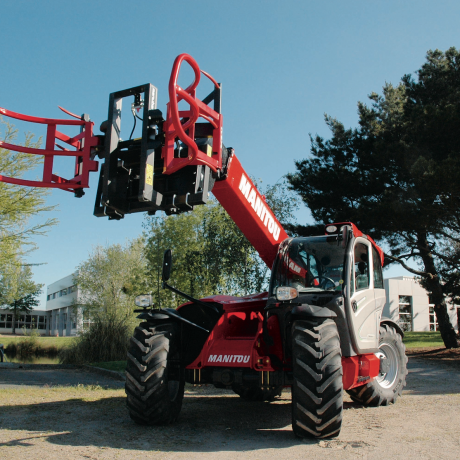 The ensilage of your minerals, cereals and plants involves several operations requiring high-performance equipment. Among the essential preparation stages, the cutting of your various elements is essential. The Manitou shear grab has been designed to help you cut silage quickly and cleanly.
This top-of-the-range attachment is suitable for all types of silage. Powerful, it promotes fast and precise cutting. Its cutting edge also limits the fermentation of the silage.
Manitou offers 5 different types of trencher. These accessories have different characteristics and are compatible with several agricultural telescopic handlers of the MLT range. Remember to check the compatibility of your machine before buying an attachment.
The diversity of our range enables us to meet the different requirements of farmers. Offering various load and offset capacities, our buckets adapt to all types of farms.
The technical characteristics of the buckets Manitou:
Load capacity: from 1200 litres to 1800 litres (depending on models)
Width: from 1654 mm to 2454 mm
Offset: from 1267 mm 1295 mm
Weight : from 705 to 936 kg
High-strength boxed structure
Massive use of noble steels
Bolt-on cutting teeth (except for SHG 1700/850)
Side blade for easy cutting
Learn more about our forks and grabs
Why choose a Manitou attachment for your farm telescopic handler?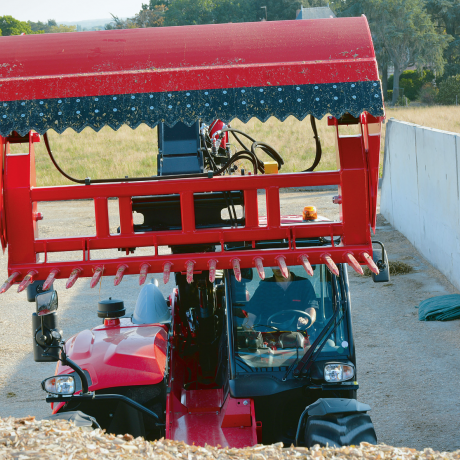 Manitou used all its know-how to design its shear grab. Our perfect knowledge of the problems of your silage business allows us to offer a specific technology at the cutting edge of innovation.
By opting for a Manitou accessory, you benefit from several advantages:
Equipment designed with resistant and top quality materials
A design designed to meet the specific needs of farmers
A robust and solid accessory that can last over time
Very easy installation on your MLT telescopic handler
A wide range of buckets adapted to your different requirements
Simplified maintenance
With Manitou, you can benefit at any time from the advice and support of your dealer. Our extensive network of professionals ensures that all your questions are answered as quickly as possible.
Would you like to buy a shear grab for your agricultural telescopic handler? Contact your Manitou dealer now. Our teams can also advise you at any time on the accessories best suited to your activity. Call on our expertise wherever you are! Manitou is present in more than 120 countries around the world.
Contact your dealer