Our range of Hydraulic Fork Positioner for Floating Forks
The Manitou hydraulic floating fork positioner increases the efficiency of pallet handling operations and saves you time. For more efficiency in off-road applications, the floating forks are available with an upgrade. This quality attachment is appreciated for the precise movement of the forks.
The hydraulic positioner for floating forks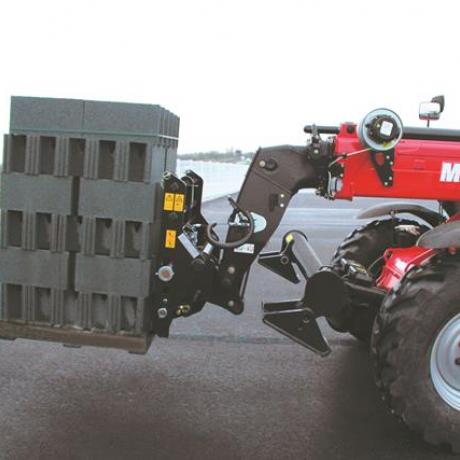 In non-industrial areas, pallet widths are not standardised. Consequently, part of the working day on the construction site is used to adjust the fork spacing of the telescopic forklift truck. Narrow pallets of insulation, wide pallets of solar panels, material pallets or pallets under big bags, everything is different!
The Manitou floating fork positioner has several advantages for our customers:
Comfort: It is not necessary to get out of the cab to change the fork spacing. You stay warm in winter, cool in summer and don't strain your muscles unnecessarily.
Speed: the change of fork gauge is quick and precise. You save time, and stay focused on your activity for better productivity.
Safety at work: less raising and lowering of the cab means less risk of sprains and falls of the operator... It also means less time exposed on the job site. Moreover, each machine/accessory couple is validated by Manitou!
Adaptation: the floating forks are perfectly suited for picking up pallets on the uneven floors of construction sites.
Stability: The standard load backrest helps to stabilise high loads.
Road safety: because you sometimes have to move from one job site to another, the Manitou CAF 1200/4500 P floating fork positioner offers a raised road position for the forks to limit the risk of collision.
The CAF 1200/4500 P floating fork positioner is particularly recommended for :
Situations that require the operator to be protected from the outside environment: weather, dust, or falling objects.
Rental fleets, as appreciated by customer-users
Construction applications using a wide variety of pallets
All pallet handling applications that require regular changes in fork spacing.
Go to the data sheet
The CAF 1200/4500 P floating fork positioner is compatible with the whole range of construction telescopic handlers, thus allowing a better utilization in rental fleets. Its width of 1260 mm and its hydraulically adjustable fork spacing from 275 mm to 1100 mm (middle of the forks) makes it possible to take the VERY large majority of the pallets and other loads (generators) present on the building sites.