Our range of Square Bale Forks
The Manitou square bale fork is a simple and efficient solution for hay handling. It allows you to handle 4 bales (800 mm high) simultaneously and can be used on the road thanks to its folding tines. Optimize your operations by using this accessory compatible with several agricultural telescopic loaders!
An ideal fork for handling 4 bales simultaneously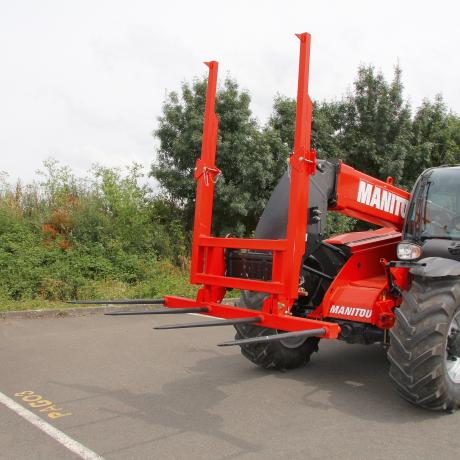 Handling bales of hay is a delicate operation that should be carried out with suitable equipment. Manitou square bale forks are the right solution for you! Their bayonet tines and the large size of the structure allow you to transport your square bales carefully and quickly.
The Manitou square bale fork gives you the opportunity to move 4 bales simultaneously (each 800 mm high). Equipped with folding bayonet tines, it can be used on your farm but also on the road. The tines located on the top of the frame also ensure optimal maintenance of your production.
The square bale fork is also ideal for storing hay. Thanks to its foldable frame, you can handle your bales under the roof of your storage space with ease.
Several ranges of telescopic loaders are compatible with Manitou square bale forks, check the compatibility of your machine before buying a square bale fork and don't hesitate to contact us for more information!
The characteristics of the Manitou square bale fork :
Load capacity: 1700 kg
Removable bayonet tines foldable without tools
Folding frame
Retaining teeth on the top of the frame
Handling of 4 bales of 800 mm height
Check out our square bale forks
An easy accessory to put on your telescopic loader
Manitou bale forks meet the requirements of farmers. Reliable, efficient and robust, they facilitate your handling and storage operations, whatever the size of your farm.
Our forks have the advantage of being very easy to install. Install the accessory in a few minutes thanks to the attachment system on the machine! The technology of our machines allows you to install your fork without having to turn off the engine. This will save time on your working day and improve your productivity.
Manitou offers you several other models of forks and accessories for load handling: manure fork, trench remover, high capacity manure fork, jib, big bag handler, square, round, wrapped, rectangular bale clamps. Consult the detailed characteristics of our accessories online and choose the range best suited to your activity.
Are you interested in buying a Manitou square bale fork? Contact your Manitou dealer! Our professionals will help you choose your accessories and advise you on the most advantageous financing solutions for your situation. Our teams are at your disposal at all times.
Contact a dealer