Our range of MRT-X Vision Plus Telescopic Handlers
The MRT-X Vision Plus rotating telescopic handlers offer construction professionals even better performance for all their material handling operations. The MRT-X Vision + range of rotating telescopic handlers now replaces the MRT-X Privilege + range, with the availability of more powerful models in terms of capacity, visibility and comfort.
WHAT ARE THE ADVANTAGES OF THE MRT-X VISION PLUS ROTATING TELESCOPIC HANDLERS?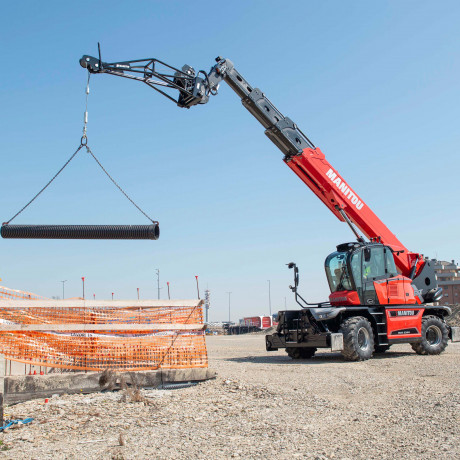 The MRT-X Vision Plus telescopic handlers are ideal for all industrial and construction applications. They are all-terrain telehandlers that can work at heights of 22 to 35 meters. Their maximum capacity is 6,000 kg and 7,000 kg over 25 to 30 meters, with a working offset of up to 28 meters. The MRT-X Vision Plus telescopic handlers have been designed primarily for the comfort and safety of their users.
MRT-X Vision Plus telehandlers are powerful, safe, precise, stable and versatile handling solutions that offer exceptional visibility, thanks to their panoramic cab, accessible from all 4 sides of the machine. You will appreciate their large, ultra-intuitive touch screen that works even while wearing gloves. The pressurized cab provides a healthy working environment and additional sound insulation.
The MRT-X Vision Plus is equipped with a new radio control with integrated display, giving you full control over your load. Safety is enhanced by audible and visual indicators, which inform the operator in case of overloading or excessive tilt.
These new generation telescopic handlers are intelligent machines: their double "capacitive" joystick is equipped with a detection sensor to secure movements and limit risks.
You can use them to work at night, by opting for 360° lighting, which includes 5 headlights, placed at the ends of the machine.
Finally, you will have an even faster machine, with movement speeds increased by 30% compared to the previous generation.
DISCOVER OUR RANGE OF ROTARY TELESCOPIC HANDLERS
MRT-X VISION PLUS COVERS ALL YOUR NEEDS!
Based on its long-standing expertise, Manitou is now able to offer you the MRT-X Vision Plus range, available in several models offering lifting heights from 22 to 35 m. These machines, with improved performance, cover all handling needs in the industrial and construction sectors.
And to further increase the versatility of your machine, you can select from a variety of attachments, that can be quickly connected and detached. Your MRT-X Vision Plus is a real tool carrier paired with a floating fork carriage, a hydraulic winch, a jib, a winch jib, a basket... and others depending on your application to complete your all-in-one handling solution.
In addition to this wide range of attachments that multiply the daily use of your machine, you will benefit from a set of associated services designed to facilitate and control its use: reduction of energy consumption, maintenance planning, parts and repair, financing, etc.
Like all Manitou machines, the MRT-X Vision Plus is available for purchase or rental depending on your projects and activity. Your dealer will advise and guide you to find the handling solution that best suits your situation and your objectives, to you choose the MRT-X Vision Plus model that meets your expectations.
Find out more