Our TCO (Total Cost of Ownership) innovations
Discover the Manitou innovations that reduce the TCO (total cost of ownership) of your farm machinery. Compatible with several models of the MLT range of telehandlers, these innovative systems improve the profitability of your handling equipment and optimize their daily operation.
«
More than the purchase price, it is the cost of ownership – and the reduction in ongoing costs – that are important to us.
»
Franck C.
Building materials trader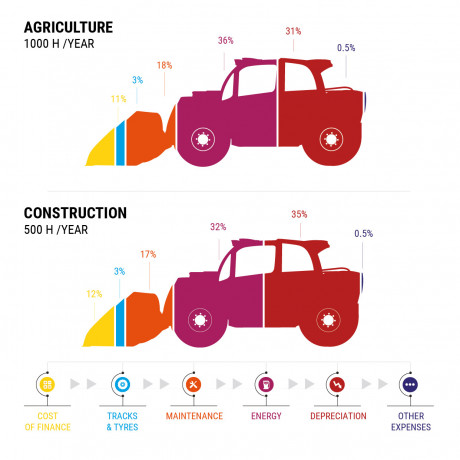 TCO THE #1 COMMITMENT OF THE MANITOU GROUP
Is cost control a major concern to you? And today more than ever, the purchase price alone does not reflect the real cost of owning and using a materials handling machine. Assessing your Total Cost of Ownership (TCO) is essential for controlling and reducing costs. Get free access to a TCO practical guide, written for both users and equipment rental companies to learn how to properly assess the real cost of a handling solution, whatever your sector: industry, agriculture or construction.
Download the TCO Practical Guide
EFFICIENT SOLUTIONS
Manitou has developed several high-performance solutions on its MLT agricultural telehandlers. These innovations allow you to increase the residual value of your machine, save fuel and preventive maintenance costs, and improve your annual profitability.
Ecostop: this innovative system automatically switches off the engine when the driver has left the vehicle cab, based on a user-defined time period. This allows you to make significant savings on TCO (between 1500 and 3000 euros per year) and to limit the environmental impact of your machine.
JSM Auto Power: this innovation is available on Manitou telehandlers with hydrostatic transmission, automatically adjusts engine speed according to the operator's hydraulic power demand on the JSM Joystick (Joystick Switch & Move). This feature reduces your fuel consumption and lowers the noise level of the machine by providing the right engine speed for the right need at the right time.
Automatic Grease System (AGS): this system automatically lubricates critical components of your machine for optimized maintenance and elimination of manual operations.
Eco mode: this solution automatically reduces the engine speed when the machine's speed is stabilized at high rpm, which limits fuel consumption, noise and pollutant emissions.
Take advantage of these innovations to improve the profitability of your Manitou equipment!
Contact our experts