Our range of Compact Track Loaders
Optimize your construction or farming operations with Manitou compact track loaders. These all-terrain loaders allow you to load, transport and move material quickly and efficiently. Take advantage of their versatility to obtain several handling solutions with the same equipment!
All-terrain track loaders for construction and agriculture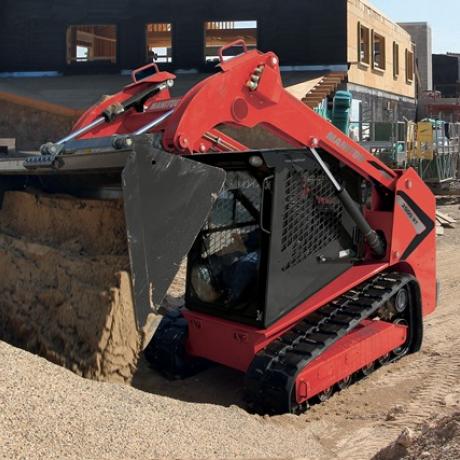 Are you looking for track loaders that can operate on all types of soil, including rough, muddy, sandy or uneven terrain? Discover the RT and VT tracked machines offered by Manitou.
Thanks to their compact design and outstanding pushing performance, our loaders make your daily work easier. Whether you want to excavate land, move sand or gravel, lift loads, transport materials or perform several maintenance tasks on a farm, they offer improved excavation and grading performance.
Manitou loaders are compatible with a variety of attachments. Simply change them out in seconds to change applications: clamps to lift and transport wood or tubes, agricultural or standard buckets to load bulk (cereals, mineral supplements, manure), grapple bucket for feeding and silage, pallet forks, specific accessories for mowing, drilling, digging, raking, excavating...
The great versatility of the RT and VT track loaders meets the requirements of farmers and construction professionals, but also the needs of the mining sector. The range offers several models with different features; find a machine precisely adapted to your needs and ensure operators a precise, efficient and safe work whatever the job constraints. Manitou track loaders also provide excellent forward reach for high performance truck loading to platforms and backfilling.
Discover our skid-steer loader ranges
Advantages of Manitou track loaders
RT and VT model track loaders satisfy the most demanding professionals in construction, industry or agriculture. Renowned for their robust design and performance, these machines are essential handling equipment with many advantages.
Off-road maneuverability: you can drive on all types of ground, including the most uneven surfaces.
Driving comfort: you operate comfortably from the ergonomic driver's seat with intuitive controls.
Ease of maintenance: you have easy access to the main components; the tracks can be cleaned quickly.
Great versatility: you can perform all your different excavation, loading/unloading and transport operations with one and the same machine.
Simplified maintenance: you benefit from connected solutions allowing you to consult machine information in real time and anticipate possible malfunctions.
Rugged design: you are using state-of-the-art material that is perfectly resistant and able to last over time.
You wish to rent or buy a Manitou track loader? Our dealer network is at your service in more than 140 countries. Take advantage of our strong presence to get answers to your problems as quickly as possible. Our teams can also advise you at any time on the handling machines best suited to your activity.
Contact our dealer network