Our spare parts solutions Cab comfort and driving safety
Your Manitou machines are under heavy strain. In any weather, you need to maintain perfect visibility from the cab and ensure optimum driving comfort to carry out your handling work safely over long periods of time.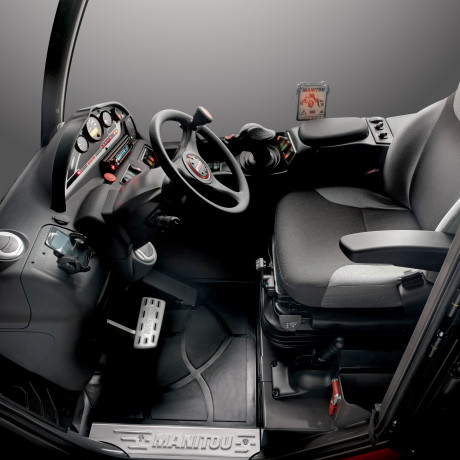 At Manitou, a handling specialist, we know your working conditions. Everyday you must maintain perfect visibility from the cab for your safety, while ensuring optimal comfort on the driver's side, to carry out your material handling work over long shifts.
In the cold weather as well as in hot weather, windows, windscreen wipers, side doors and mirrors are in the front line against shocks, mud and bad weather that can break them or wear them out prematurely. Your windscreen is your shield facing the outside: it guarantees a wide angle visibility of your work space.
Look at your windscreen:
Fog, streaks, jerks, unwiped areas or rubbing noises are signs that your brushes are worn out or that you have taken a shock or splashed on the glass.
A clear field of vision inside your handling machine and the quality of the glazing contribute to your working comfort and safety.
Manitou has also developed a wide range of cab equipment compatible by machine type:
Sun visor
Car radios
Sound system
Reliable and high-performance, they will accompany you on a daily basis by improving cab comfort.
When comfort at work rhymes with health...
Due to vibrations and physical constraints, your working conditions are often the cause of back pain. Manitou offers you seats designed according to the rules of ergonomics to guarantee you a good working position.
Studied with care by our design office, seats, headrests and armrests call upon ergonomic requirements to adapt to all driving morphologies and postures.
From the simplest to the most advanced seat, Manitou seats adapt to your machine, your needs and your budget: from the economic version to the versions with mechanical suspension, air suspension or low frequency, you will find in our seats an answer adapted to your need for comfort to dampen vibrations, while facilitating the rotary movements linked to the driving of your handling equipment.
Your are unique and your driving comfort and your safety are our priority: find all the ranges of cab comfort, visibility and driving safety at your Manitou dealer.
Contact your dealer