Our material handling solutions for Mining Plants
The profitability of your investments leads you to build your infrastructures in shorter time frames and often in difficult mining environments. Manitou offers several handling machines for mining installations. These high-performance solutions make your operations easier and provide you with ideal safety conditions. Maximize your productivity and save time with Manitou solutions dedicated to the mining sector!
High-performance machines ideal to help you in your operations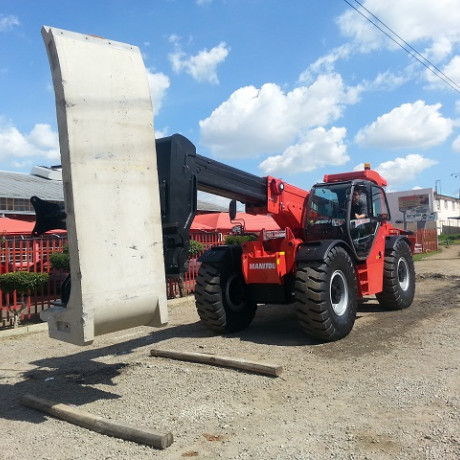 Any mining installation project requires high-performance equipment that is resistant, safe and capable of adapting to the specific constraints of the field such as difficult environment, restricted space or rugged terrain. Manitou machines meet all these requirements thanks to their design at the cutting edge of technology and innovation.
Several handling and extraction machines are particularly adapted to the mining sector: telescopic or rotating telehandlers, aerial work platforms, articulated loaders, all-terrain forklift trucks. Equipped with 4 steering wheels and offering several steering modes (including crab mode), these machines have been designed to intervene quickly on all types of ground, including the most uneven. Thanks to their ultra-compact models, you can also work with ease in confined or underground spaces.
Every Manitou machine is versatile as it is simply to change attachments to obtain a different function. This means you can perform all your tasks with a single machine, whether you load/unload trucks, handle and position heavy and bulky loads such as containers with precision, prepare the ground, build your infrastructure, maintain it, store materials or clean up the work site. Our range offers many attachments that correspond precisely to the requirements of mining production: forks, jibs, work platforms, skips, winches, hooks, sweepers and more.
Check out our Mining solutions
The benefits of Manitou solutions for mines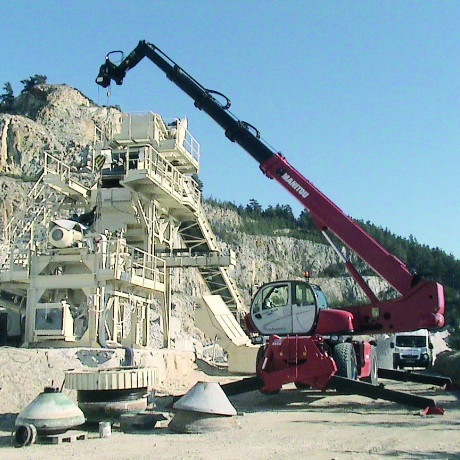 Manitou has unrivalled experience in the design of material handling machines. This expertise allows us to meet the needs of the most demanding professionals in the mining sector, whether it's a construction, maintenance or rehabilitation project. Today, the main players in the field are taking advantage of the many benefits of our solutions to improve their productivity and reduce operating costs.
The main advantages of Manitou machines for miners :
Rough-terrain design
Multiple steering mode (2/4 wheel drive, crab mode...)
Exceptional crossing capacity
Great versatility
Comfort and ease of driving
Optimum safety for operators
Excellent 360 degree visibility
Robustness and resistance
Large tonnage lifting capacity
Easier maintenance of the machines
Possibility of configuring the machine to suit your needs
With Manitou, you also benefit from numerous services throughout the life of your machines: maintenance, repairs, replacement of original parts, after-sales service, warranty extension... The extensive network of our dealers enables you to get an answer to your problems as quickly as possible. You have a question about the handling equipment dedicated to mining installations? Contact our experts at any time!
Any particular need? Our "special solution" team will study it carefully.
Contact an expert