Our range of ATJ aerial work platforms
The ATJ range offers aerial work platforms with an articulated structure with jibs. All-terrain, these diesel and electric models are perfectly adapted to outdoor handling operations. Take advantage of their performance and make your daily work easier, whatever your sector of activity.
Aerial work platforms for your outdoor handling operations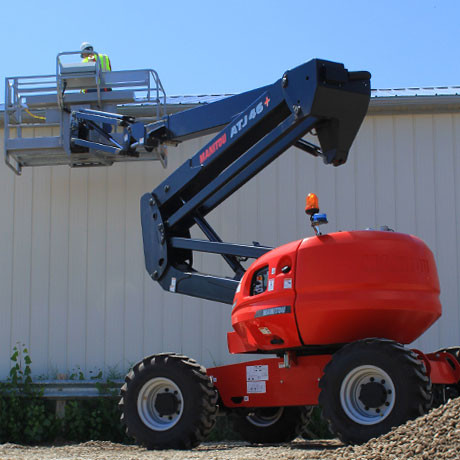 The ATJ range in North America currently includes 3 models of articulated aerial work platforms: the ATJ 46, the ATJ 46+, and the ATJ 60.
ATJ aerial work platforms are designed with an all-terrain articulated structure that meets all your outdoor handling needs. Whether you are a rental company or an operator, these high-performance models are essential for handling loads in difficult to access and restrictive environments.
ATJ articulated aerial work platforms offer ideal characteristics to efficiently carry out high access tasks. Able to face all obstacles, they facilitate your requirements and ensure optimum safety on the job.
Advantages of ATJ access platforms:
Galvanized baskets resistant to extreme conditions and contributing to the improvement of TCO (Total Cost of Ownership)
Turrets that can be equipped with continuous 360 degree rotation
Chassis designed for off-road use and guaranteeing optimal behavior on uneven ground
Resistant structures that last over time
Machines are equipped with transmission axles offering excellent performance
Thanks to this state-of-the-art design, our aerial work platforms are indispensable products in the material handling market. Today, they meet the precise needs of professionals in industry and construction - construction and civil engineering, cleaning, sandblasting, pruning, port and airport maintenance, event operations, etc.
Discover our Mobile Elevating Work Platforms
The advantages of ATJ aerial work platforms for professionals
ATJ rough-terrain aerial work platforms offer excellent performance: they are now among the most complete lifting solutions on the material handling market.
Off-road capacity provided by 4-wheel drive, 3 steering modes (4 or 2 steering wheels, crab), 2 reinforced drive axles, etc...
Easy to use: ergonomic basket and floor control station, spacious basket that can accommodate 3 operators, openwork floor for better vertical visibility, color screen displaying useful information for the operator at all times.
Increased productivity thanks to load capacities that are unique on the articulated aerial work platforms market (900 lbs. - 400 kg max), an optimal working envelope and fast positioning thanks to 4 simultaneous movements.
Ideal working heights (60 feet or 18 meters maximum depending on the model)
Perfect safety guaranteed by a reinforced arm structure, double rails protecting the hands of the operators, load sensors, a negative braking system, an electric emergency pump and safety valves on the lift cylinders.
The ATJ North American range currently includes 3 models of articulated aerial work platforms: the ATJ 46, the ATJ 46+ and the ATJ 60. Our teams can advise you at any time on the most suitable aerial work platforms for your industrial activity.
Contact a Manitou dealer