Our range of Compact Tire Clamps
Are you looking for a high-performance solution for handling tires? Discover the compact tire clamp designed by Manitou. For heavy-capacity telescopic handlers or agricultural telescopic handlers, this attachment is able to handle and remove all types of tires, even when access is limited. A clamp adapted to the requirements of the mining, oil and gas sectors.
Manipulate your tires in tight areas with our compact tire clamp.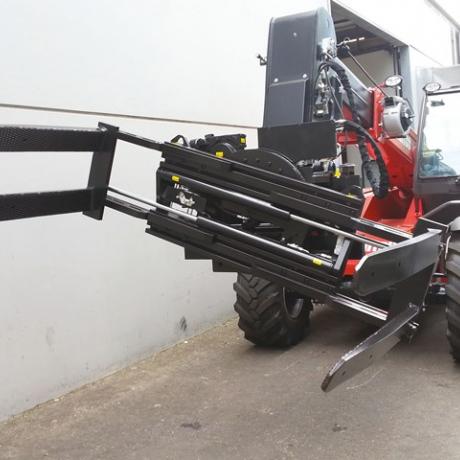 Manitou has designed a range of compact tire clamps that meet the specific needs of the mining sector (both open pit and underground mines). These ultra-handy attachments work like a human wrist, and offer 360 degree vertical/horizontal rotation.
Our clamps fit all types of tires. Compact and equipped with narrow forks, they facilitate your operations and allow you to remove your tires quickly, even in tight spaces. For greater efficiency and safety, the forks are covered with non-slip materials.
Secure the handling of your tires on the job site with the performance of our compact clamps. These mining attachments are compatible with the Manitou MLT 845 agricultural telescopic handler and the MHT 790 and MHT 1490 heavy-capacity telescopic handlers.
Check the compatibility of your machine to find an accessory suitable for its use. Two models of clamps are available with your machines: the TH33 clamp and the TH35 clamp.
The technical characteristics of our compact tire clamp:
Load capacity: 2000 kg (TH33) and 2900 kg (TH35)
Min/max diameter: 480/2100 mm (TH33) and 650/2650 mm (TH35)
Number of forks: 4
Compact design and narrow forks designed to remove tires even when access is limited
What are the advantages of Manitou mining accessories?
Manitou tire clamps have many advantages. They are nowadays reference solutions for the main players in the mining sector:
Maximum handling safety
Compatibility with all types of tires
High movement accuracy
360° rotation of the clamp
Integrated 100mm/100mm sideshift
Tire handling on all types of terrain
Ease of installation and use
Easy maintenance
Install your clamps in a few minutes thanks to the attachment system present on your telescopic handlers! Manitou allows you to complete your equipment with several other top-of-the-range mining accessories: pipe/hose clamps, tire clamps, jack clamps, mining nacelles, adjustable tunnel nacelles...
Would you like to buy a compact tire clamp for your MHT or MLT? Your Manitou dealer will respond to your needs as soon as possible. He will listen to your needs, advise you and help you find the equipment best suited to your business problems. Contact our professionals or call on our teams! Manitou material handling equipment is world-renowned for its reliability and state-of-the-art technology.
Contact a dealer