Our range of Cylinder Handler
Manitou offers a wide range of cylinder handlers. For heavy-duty telescopic handlers, these attachments are precisely designed to meet the requirements of the mining sector and oil/gas professionals. Optimize the use of your industrial telescopic handler thanks to the performance of our clamps!
Optimize your operations with Manitou cylinder clamps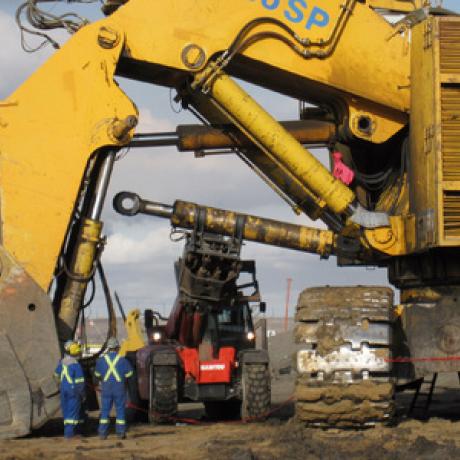 Manitou cylinder clamps optimize your handling machines. Compatible with the heavy-capacity telescopic handlers, these attachments allow you to easily handle cylinders of different dimensions.
Our cylinder clamps offer 6 combined movements, which adds a greater precision to your machines. Two types of support are also available: clamps (on the CH10 model) and cables (on the CH4 model). Opt for the solution that best suits your needs!
By installing this model of clamp on your heavy-capacity telescopic handler, you can handle your loads safely and quickly. Use our attachment for all your applications, whether you operate in open pit mines, underground mines or oil/gas sites.
Manitou cylinder clamps are compatible with several heavy-duty telescopic handlers: MHT 790, 1490, 10130, 10180 or 10230 (depending on the model). Remember to check the compatibility of your machine in order to find the corresponding accessory.
The technical characteristics of our cylinder clamps :
Load capacity: 4000 kg or 10500 kg
Min/max diameter: 250/530 mm or 0/630 mm
Number of teeth: 1850 or 3000 (depending on model)
6 combined movements
2 types of holding: clamp or cable according to the model
Go to the product sheet
What are the advantages of mining cylinder clamps?
Professionals in the mining and oil and gas sectors need heavy-duty handling equipment that can move large or particularly heavy loads. Cylinder clamps have been designed to meet these requirements. They offer miners many advantages:
High precision of movement
High load capacity
Easy handling
Maximum safety for operators
Rugged and resistant material capable of lasting over time
Easy to install on trolley
Simplified maintenance
World leader in material handling solutions, Manitou offers several other accessories for the mining sector: compact tire tongs, tire tongs, tube/pipe tongs, mining nacelles, slewing tunnel nacelles, etc. Find the most suitable equipment for your activity!
Are you interested in purchasing a cylinder clamp for your telescopic handler? Contact your Manitou dealer! Our professionals can advise you and help you set up customized financing solutions. Also take advantage of several other support services. Our teams are at your disposal every day.
Contact our dealer network