Our range of Agricultural Buckets
This range is mainly used in loading and unloading of bulk: cereals, granules, grains, supplements with a maximum density of 1000 kg per m3. It is designed and validated by Manitou with each of our agricultural machines in order to guarantee optimal operation for the user.
The Agricultural Bucket: A "must have" for users of telescopic loaders and agricultural loaders (MLT and MLA-T)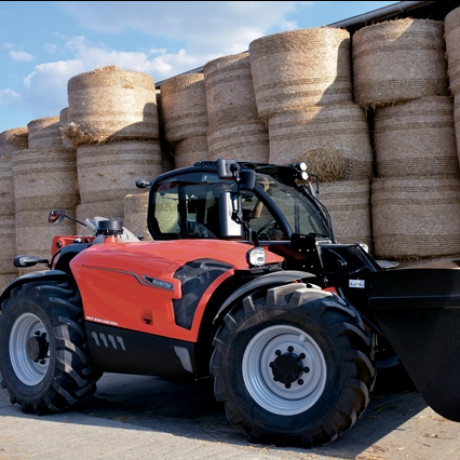 The agricultural bucket is the most common attachment used with the agricultural telescopic loaders and articulated loaders. That's why Manitou offers the best product available on the market.
Moreover, it is 100% adapted to each of our machines in terms of: width, capacity, weight and dumping angle.
The advantages of the Manitou agricultural bucket:
the Manitou agricultural bucket is convex in shape to facilitate loading and unloading operations
a bolt-on reversible wear blade with a hardness of 500 HB is available as an option for increased durability.
the hull is designed with a 3° angle between the bottom of the bucket and the wear blade for a better longevity.
The agricultural bucket is used in many applications: loading and unloading grain, feeding animals, moving bulk.
it is particularly appreciated by many agricultural trades: grain farmers, breeders, market gardeners, dairy farmers, stud farms.
Technical description of the agricultural bucket
its unique shape ensures unequalled rigidity, perfect for unloading and limiting losses.
it is equipped with a welded wear blade with a hardness of 400 HB.
this range is available in widths from 1500 to 2500 mm with capacities from 900 to 3000 litres.
Discover all our buckets
The Manitou CBA range of agricultural buckets is composed of 8 different sizes of buckets to be perfectly adapted to your machine. Each bucket weighs between 345 and 760 kg. The buckets are designed and certified to handle all bulk materials with a density of 1000 kg per cubic meter or less: grain, straw, hay, silage, manure, roots, tubers and fruits. There are buckets designed specifically for all Manitou agricultural telehandlers: MLT 420, MLT 625, MLT 630, MLT 635, MLT 730, MLT-X732, MLT 733, MLT-X 735, MLT 737, MLT 741, MLT 840, MLT 845, MLT 940, MLT 1040; not to mention the MLA-T 533 telescopic loader.