Our range of Construction Bucket
Manitou's range of construction buckets is ideal for digging or handling applications involving materials used in the construction industry such as earth, sand, gravel, cement or rubble with a maximum density of 2100 kg per m3.
Our construction buckets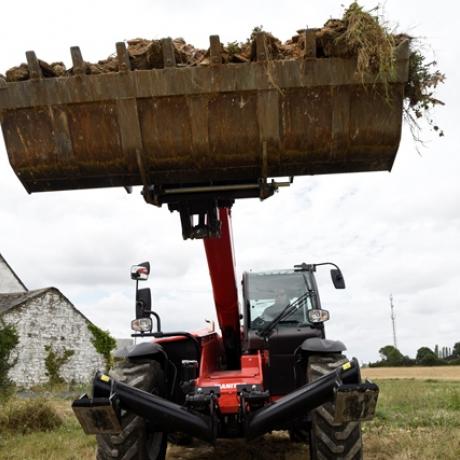 The Manitou construction bucket is very popular in the construction industry!
Construction buckets are often found on construction sites, mounted on construction telescopic handlers, MT. In addition, our agricultural customers also use this type of bucket with their MLT agricultural telescopic handlers to move heavier materials on their farms.
The advantages of the construction bucket (CBC) for our customers :
The construction bucket is 100% Manitou design.
It is made to dig or move earth more easily thanks to its curved teeth.
The construction bucket makes it possible to move heavier loads safely.
It is a solid accessory, designed to age well over time.
This bucket is designed to be adapted to the needs of our telescopic handler users: For the need for compactness on worksites with the MT-X 625 Manitou created a 1500 mm wide bucket with a capacity of 500L CBC 500/1500. The range has now been extended to meet all requirements, including the CBC 900/2450, which is suitable for telescopic handlers with a capacity of over 3 tonnes for more intensive construction applications.
Agricultural telehandler customers sometimes need to carry out digging or recovery work, so we have certified some of our agricultural buckets with agricultural telescopic handlers (MLT).
Technical description :
The Manitou construction bucket is made of a single sheet of rolled steel for added strength.
It is reinforced at the back and underneath with welded steel legs.
The angles and teeth are removable and can be changed if necessary.
There are 6 sizes of Manitou construction buckets from 1500 mm to 2450 mm wide and from 500 to 900 litres capacity.
A level plate is affixed to the bucket for better working precision.
The bucket can be used to move materials with a density of 2100 kg/m3 or less.
Go to the data sheet
Manitou offers 6 different construction buckets (CBC) to perfectly match your machine in terms of width and capacity. There are also special versions for machines equipped with sideshift aprons and a dedicated version for the MT 420 with universal skid steer apron. Construction buckets are available for all our fixed construction telescopic handlers: MT 420, MT 625, MT 733 Easy, MT 933 Easy, MT 1033 Easy, MT 1135, MT 1335, MT 1440 and MT 1840. These buckets are also suitable for certain agricultural telescopic handlers: MLT 630, MLT 635, MLT 730, MLT-X 732, MLT 733, MLT-X 735, MLT 737, MLT 741, MLT 840, MLT 845. The Manitou Construction Bucket (CBC) is designed to work with materials such as earth, sand, rubble, cement, or others with a maximum density of 2100 kg/m3.