Our range of Mining Work Platforms Underground Mining Platform
Discover the Manitou mining platform for heavy-duty telescopic handlers, fixed telescopic handlers and rotary telescopic handlers. Approved for three people, this accessory ensures maximum safety for your operators during underground operations. Make your handling work easier thanks to the performance of our aerial work platform!
An ideal cradle for underground mines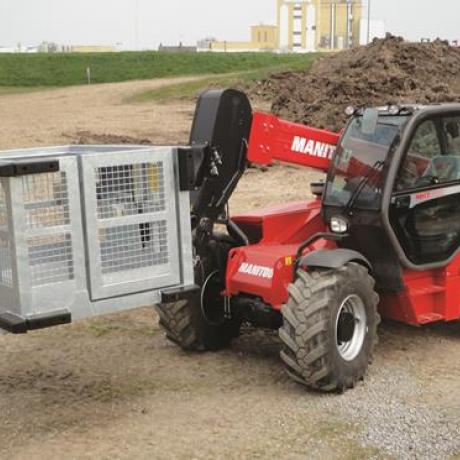 Are you looking for professional solutions to work efficiently in your underground mines? The Manitou mining platform is the attachment you need. Offering a galvanized platform, it allows you to carry out your operations in ideal conditions of comfort and safety.
Our mining access platform has been designed to precisely meet your handling needs in underground and confined areas. Its reinforced structure, equipped with numerous protective bumpers, secures your interventions while its large load capacity allows 3 operators to climb on the platform.
The Manitou platform is available with a solid or openwork floor. Opt for the version best suited to your business constraints! Several machines are compatible with this mining accessory, including MT fixed telescopic handler, MRT rotarting telescopic handlers and MHT heavy-duty telescopic handlers. Check the compatibility of your machine in order to choose the right attachment.
Technical characteristics of the Manitou mining platform:
Load capacity: 1200 kg
Width: 2000 mm
Number of legally approved operators: 3
Weight: 1020 kg
Galvanized and reinforced structure
The basket is very easy to install on your telescopic handler. Thanks to the attachment system present on our machines, you can attach/unattach your accessory in a few minutes. This saves time in your operations and can improve the productivity of your site.
Go to the data sheet
Why use an aerial work platform for your underground operations?
Underground mines have specific requirements in terms of safety and handling. Our thorough knowledge of the sector has enabled us to design a platform with features specially adapted to these needs. With this innovative mining accessory, you get a solution capable of responding precisely to your business constraints.
The benefits of the mining nacelle for the mining and oil and gas sectors :
Particularly resistant galvanized and reinforced structure
Maximum safety for operators in underground environments
Large load capacity
Compatibility with several Manitou trolleys
Comfort and ease of handling
Off-road manoeuvrability
Versatility
Easy maintenance
With Manitou, you can benefit from several other mining solutions that optimize the use of your handling machines: pipe/hose clamps, cylinder clamps, tire clamps, slim tire clamps, but also adjustable tunnel platforms. Make your choice and complete your equipment with world-renowned equipment.
Would you like to buy a Manitou mining platform? Your Manitou dealer can assist you at every stage of your project. Call on our services and take advantage of our unparalleled expertise in material handling solutions for professionals. Our teams can also advise you and help you find a mining attachment that meets your requirements.
Contact our experts