Our range of Mixed Bale Clamp
Are you looking for a versatile solution to handle your various hay bales (square, round, wrapped)? The Manitou Mixed Bale Clamp is the perfect solution for your needs. Easy to use, it allows you to change functions in less than 3 minutes and without tools. Take advantage of its performance to optimize the transport and storage of your hay bales!
A versatile model for handling your square, round and wrapped bales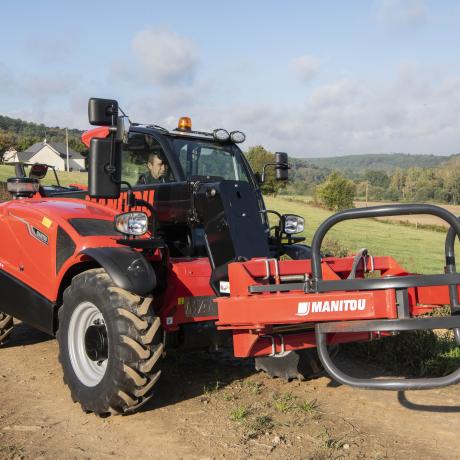 As the person in charge of a farm, you are responsible for regularly transporting and storing bales of hay of different shapes.
These operations must be carried out with care and efficiency in order to increase productivity and avoid damage.
The Manitou mixed bale clamp can meet all these requirements! With its forged rounded teeth, it offers a precise and clean penetration into the material, which guarantees the preservation of the hay. Its design allows you to change functions in just a few minutes. So you can handle your round, square and wrapped bales with the same attachment.
The Mixed Bale Clamp is compatible with several ranges of MLT telescopic handlers The MLT 625, 630, 635, 730, 733, 737, 741, 840, 940, 961 and 1040 agricultural telescopic handlers. Check the compatibility of your machine before investing in the mixed bale clamp.
Technical characteristics of combination pliers :
Load capacity: 800 kg
Synchronized or non-synchronized closure
Number of teeth: 2x3
Weight : 200 kg
Adjustable digging angle (2 door leaf positions possible)
2 lower fingers for handling square bales
Max height of rectangular bales: 1.2 m
Max. diameter of round bales: 1.6 m
Maximum diameter of wrapped bales: 1.8 m (1 metre minimum)
Learn more about our Mixed Bale Clamp
A bale clamp that is very easy to install on your MLT.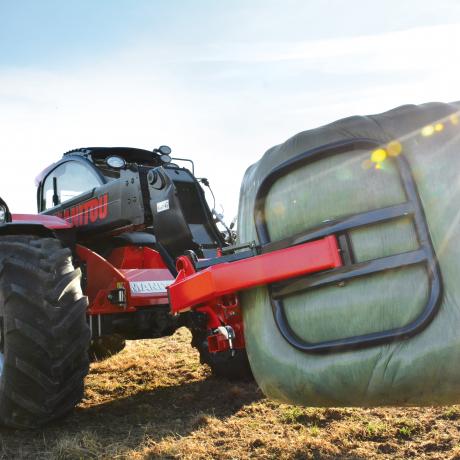 The mixed bale clamp has the advantage of being very easy to install. Thanks to the attachment system on your MLT, you can install your clamp in a few minutes and without tools. To facilitate your operation, the ECS (Easy Connect System) tool allows you to change accessories without switching off the engine. This will greatly improve your productivity and avoid wasting time on your working day!
Several other ranges of clamps are compatible with your agricultural telescopic forklift: super-compact bale clamp, classic bale clamp, wrapped bale clamp, square bale clamp, intensive bale clamp... Choose the model best suited to your activity!
Your telescopic handler can be optimized by other attachments such as grapple buckets, agricultural buckets, manure forks, bale forks or big bag handlers. Contact your Manitou dealer for advice on your project and to purchase a mixed bale clamp suitable for your MLT telescopic handler. Our teams can also help you with your various projects.
Contact your dealer