Manitou BIM files
As real 3D visualization tools, Manitou BIM files (Building Information Modeling) allow you to integrate our machines into your digital mockup and put them into practice in all your construction applications. Each BIM object contains machine technical data (dimensions, weight, ground clearance, etc.) to help you optimize work-flow on your sites, from design to deconstruction.

Large-scale worksites require better communication, collaboration, cost and time management, decision-making support, global visualization of the project, and increased productivity and quality. These are all reasons to use our BIM files for precise planning!
What is BIM and why use it?
BIM stands for Building Information Modeling. It is a visualization tool that allows you to create, design, plan and manage your projects. Thanks to BIM, various project stakeholders will know what to do when and how.
The BIM process allows you to visualize a building or structure in 3D modeling. This detailed data is essential to precisely plan a worksite and to optimize costs. BIM takes into account the construction of project throughout its entire life cycle: therefore it is essential from the design of a project or building, up to its deconstruction, along with recycling of its materials.
Building and public works, as well as civil engineering, can rely on this very valuable digital mockup for a real decision-making support. This makes it possible to estimate and optimize costs, gain project efficiency thanks to a better communication between team members and stakeholders, and increase quality and productivity.
The overall visualization of the project is facilitated: this virtual representation not only makes it possible to build, test and analyze even before the first pickaxe, but helps group all the data in the same source. It is also ideal for checking the functional and environmental criteria of a construction project throughout its life cycle.
The cost reduction is real: it comes in particular from a reduction of potential conflicts between elements, as well as respecting financial information and production deadlines as soon as possible.
Increased productivity and quality improvement thanks to reliable data which can be consulted at any time, even remotely, by all the stakeholders of a project to better manage working hours.
The commercial approach is improved, and production times are reduced. Decision making is made much easier in connection with more fluid communication and collaboration between resources with different profiles.
Safety standards are improved and the effective performance of the structure is constantly analyzed.
To access our BIM platform, simply create your account for free on the BIM&CO platform, which will give you unlimited access to our available files.
check out our bim files!
«
Building information modeling, called BIM, makes it possible to structure and visualize all the data of a project, from design to deconstruction. It is a complete digital mockup, which can be used on a daily basis by all those involved in a construction project.
»
What are the advantages of Manitou BIM files?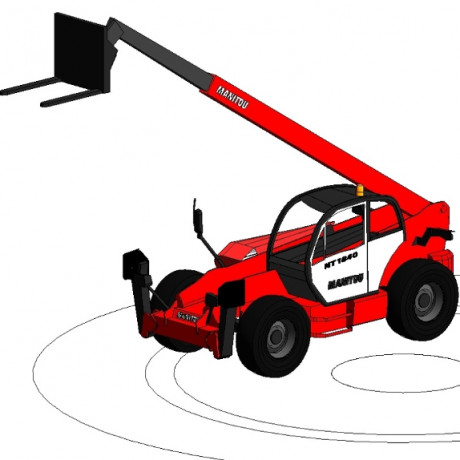 To meet your expectations, Manitou offers you BIM files: many of our machines are already available in this format, and new ones are added gradually, in order to cover all of our ranges used in the construction application.
These BIM files fully preserve Manitou's DNA, with colors, decals and designs fully compliant with reality. You will see your machines as they actually are, in their work area.
The strengths of our BIM files:
These are dynamic files, with load charts, essential for using our machines to the best of their ability and understanding their real applications on site.
These files are categorized and optimized: in case of misuse, you will see an error message.
They are available in French and English, which facilitates the simultaneous work of international teams.
Each of these modeling files includes the complete identity card of the machine: thus you have access to all the technical characteristics, such as weight, dimensions, ground clearance, without forgetting C02 emissions and consumption, to best meet new environmental requirements. This will make your decision making easier. You will therefore choose in full knowledge the machine that meets your exact needs, at the right time.
Our BIM catalog is continuously growing, so make sure to come back here regularly to find useful technical data for construction telehandlers, aerial work platforms, rotating telehandlers, compact telehandlers and more.
Take advantage of the multiple functionalities of our BIM objects, as you will be able to collaborate in real time with multidisciplinary teams - architects, engineers, business managers, craftsmen... - on global projects, covering the complete life cycle.
For any additional questions, do not hesitate to call on our experts, who are here to help.
contact an expert