Our ranges of Backhoe Loaders
Discover backhoe loaders designed by Manitou! All-terrain, these high-performance machines offer excellent excavation, grading, earthmoving and handling capabilities. Take advantage of their versatility to efficiently perform all your operations regardless of ground conditions.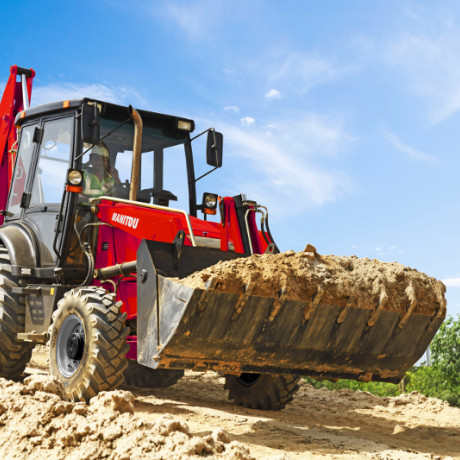 Adapted to the requirements of professionals
Manitou backhoe loaders combine power, precision of movement, robustness and high crossing capacity. Equipped with a particularly resistant structure and 4-wheel drive transmission, they assist you in all your excavation, backfilling, digging and material transport operations. Use their attachment system to change attachments in a few minutes, and get a solution adapted to each problem! Manitou backhoe loaders meet the requirements of construction and agricultural professionals.
Versatility and efficiency
The range of Manitou Backoe Loaders includes backhoe loaders with a bucket at the front and a shovel at the rear. These excavators offer their users a number of advantages:
Off-road maneuverability: you can drive easily on all types of ground (rough, muddy, sandy, uneven).
Driving comfort: the ergonomic driver's platform and intuitive controls provide you with a high level of operating comfort.
Ease of maintenance: you can maintain the main components of your equipment
Great versatility: thanks to the numerous compatible accessories, you can manage your excavation, loading/unloading and transport operations with a single machine.
Robust and resistant structure: your material handling equipment is able to last over time.
Call your Manitou dealer to buy or rent a backhoe loader!
See all backhoe loaders