Our spare parts solutions Lighting your Manitou machine
Early in the morning, late in the evening and in any weather, the lighting of your machine is essential: it allows you to see the handling operations to be carried out while having the security of being seen.
We have selected a range of replacement or additional lighting to increase the visibility around your machine and light up your work area:
Work lights
Headlights and taillights
Traffic lights
These wide choices from Manitou's original lighting range will meet all your needs.
Meticulous manufacturing and quality components :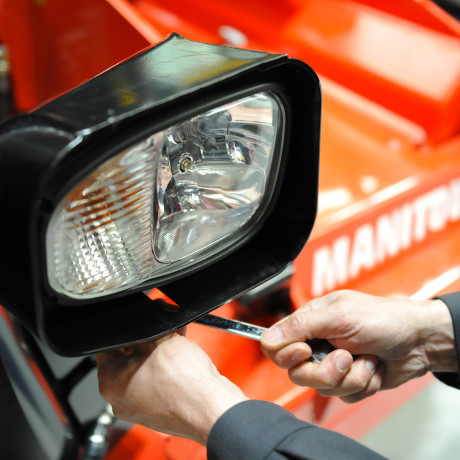 Original Manitou lights are chosen specifically for your machine. They respect the design and lighting constraints of your machine by offering you quality materials and components:
Halogen bulb durability
Led beacon
Xenon headlight
Quality of the complete printed circuit board and of the soldering of the wires
Only original Manitou lights guarantee quality and durability.
Chosen for their manufacturing quality, Manitou headlights are perfectly waterproof: the joints between the cabochon and the body of the headlight correspond perfectly in terms of shape, length and thickness to ensure a perfect fit. They comply with IP standards against bad weather and repeated washing. The circuits and connections of Manitou headlights are thus protected from any alteration.
Flashing lights, an indispensable tool for driving handling equipment
Our wide range of lighting offers you powerful headlights and flashing lights to ensure a very good projection of light while offering a reduced energy consumption.
LED headlights improve the quality of the light while ensuring a life span multiplied by 5 to 10. LED headlights have the advantage of being maintenance-free: no bulbs or terminals to change.
For flashing lights, they are essential for driving handling equipment. Safety elements, they allow you to be seen by others. The use of flashing lights on the road is regulated by the Highway Code:
- Only approved flashing lights can be used on the road.
- All Manitou flashing lights meet European standards for use on public roads.
Quality of components, lighting power and robustness, Manitou original lighting ensures you a quality of light and protects you against the dangers related to your working environment (darkness, bad weather, dust). They are approved for the requirements of your activity and the characteristics of your machine.
Manitou original lighting ensures safety and durability with visual comfort.
Contact us