Our material handling solutions for Underground Mining
Are you looking for handling equipment for your underground mines? As a long-standing partner of the mining sector, Manitou designs the latest generation equipment to meet all your requirements. Take advantage of their performance to facilitate your operations and maximize your productivity on site. Manitou machines offer you a solution for each of your business problems.
High-performance equipment to operate in your mines in complete safety
As a professional in the underground mining sector, you are confronted every day with strong environmental constraints; very low light, noise, extreme temperature, dust, humidity, uneven ground, space constraints and congested or limited work area. These problems force you to invest in top-of-the-range equipment capable of facilitating your operations, while ensuring optimal safety conditions.
Manitou machines are able to meet all your needs. Combining reliability, performance and versatility, they avoid downtime in your operations. They are valuable allies for your applications: delivering consumables, drill rods, gallery support systems, drilling and injection operations, installation of suspended fans and ducts, etc.
Among our various ranges, compact telescopic telehandlers, forklift trucks (M) and articulated loaders will particularly meet your business constraints. Thanks to their all-terrain design, these high-performance machines allow you to operate with ease on all types of ground. Their great compactness is also ideal for working efficiently in confined and reduced spaces.
With Manitou, you have the advantage of owning versatile machines as they are compatible with dozens of accessories. Various tasks can be performed with a single piece of equipment, reduce your investment costs and save time on your site. Our range of accessories such as tire clamps, jib cranes, tunnel or mine baskets, winches and hooks.
Check out our Mining solutions
Underground mines: why choose Manitou solutions?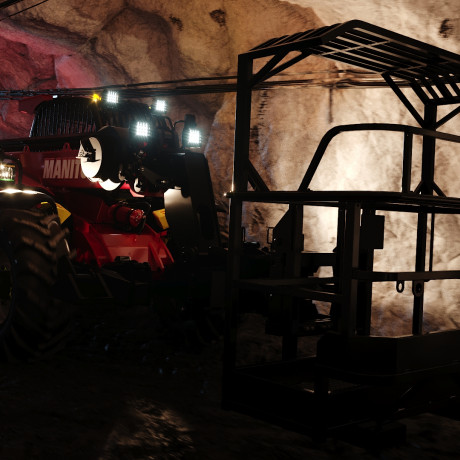 By choosing Manitou material handling machines with factory-mounted mining specifications, you're giving yourself the best chance to get the job done. Their unrivalled performance on the market has already won over the major players in the mining sector throughout the world.
The advantages of Manitou machines for underground extraction for mining operations managers :
Off-road function (4-wheel steering, interchangeable steering mode)
Safety brake system
Emergency management
Optimum lighting on all machines
Directional lights
Excellent 360 degree visibility
Remote control
Perfect safety of use for the operators
Multifunction machines
Comfort and ease of piloting
High robustness and shock resistance
To optimize your machines and their use, Manitou offers you several excellent services throughout their life cycle: maintenance, repair, replacement of original parts, after-sales service, extended warranty. Would you like to know all the features of our handling solutions dedicated to underground mines? Our teams will respond to your requests as quickly as possible. Contact us at any time!
Do you have a particular need? Our "special solution" team will study it carefully.
Contact our experts