Our range of VJR aerial platforms
The VJR vertical mast aerial work platform is characterized by its high compactness and perfect maneuverability. With these features, it is the ideal solution for working at heights in cramped spaces, whether in warehouses or outside your industrial sites. Save time in your maintenance / handling operations thanks to the VJR electric aerial work platform designed by Manitou!
Compact aerial work platforms ideal for working in confined spaces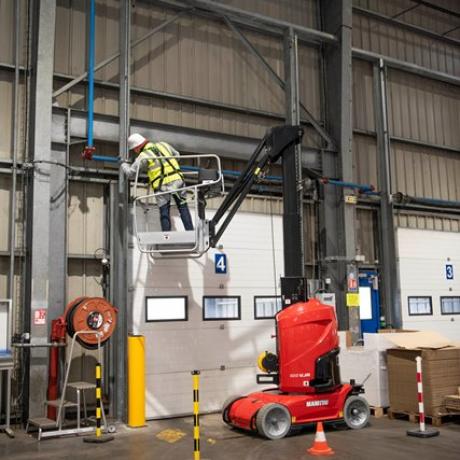 The VJR range offers two vertical aerial work platforms. Particularly compact, these models allow you to carry out precision work at heights - up to 32 feet (9.8 meters) - in optimal safety conditions.
VJR aerial work platforms meet all your handling and maintenance needs, both indoors and outdoors. Their dimensions allow you to pass between the majority of industrial doors, but also to circulate with fluidity, including in confined and congested areas.
The VJR range has been designed to accommodate two operators. Equipped with a mast with telescopic tubes and a turret capable of rotating 350 degrees, the platforms guarantee technicians perfect stability and ease of movement.
The VJR models also have the advantage of operating with a 24V / 250 Ah traction battery that delivers a high number of work cycles guaranteeing a working day without battery recharge. Traction batteries also offer a very good service life.
VJR vertical mast aerial work platform offers exceptional features that improve operator productivity and make your operations safer. The VJR range is particularly adapted to the construction industry (interior and exterior finishing work), advertising displays, the food industry and meets all industrial uses.
Discover our range of aerial work platforms
The advantages of VJR aerial work platforms for professionals
VJR electric aerial work platforms are today a reference in the industrial handling solutions market. They offer their users many advantages:
Compactness and maneuverability - width less than 1m (3' 3"), height less than 2m (6' 6")
Ease of transport (light machine, one-point slinging, numerous lashing points, fork-carrying sleeves)
Optimum safety (openwork basket floor, double boom, mast with telescopic tubes, simple and intuitive controls, load and tilt sensors)
Smooth and precise drive (electric drive motor, 350 degree turret rotation)
Robustness and reliability
Excellent visibility
Low maintenance (quick access to hydraulic components and battery)
Manitou offers you several support services: repair, maintenance, replacement of original parts, after-sales service, tailor-made financing solutions, etc. These services, offered throughout the life of your machines, optimize the daily use of your electric aerial work platforms and enable you to obtain a solution adapted to your problems in real time. Our extensive dealer network guarantees you a fast service, whatever your needs. Contact our teams to be accompanied in your project and succeed in choosing a VJR vertical aerial work platform model that meets your requirements.
Contact a Manitou dealer