Our range of EMA articulated forklift trucks
Increase your storage capacity and move easily between narrow aisles in your warehouses with the performance of the EMA II range. Offering 7 electric models of articulated trucks, this range meets all your warehousing needs in industrial environments, both indoors and outdoors. Take advantage of the versatility of these machines to perform all your tasks and reduce your investment costs.
Articulated mast trucks to improve your storage capacity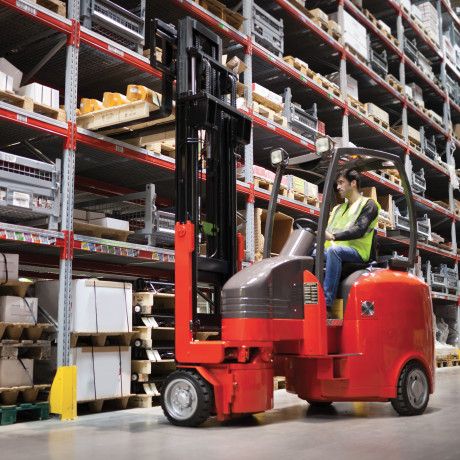 The EMA II range consists of 7 battery-operated articulated mast trucks. Specially designed for logistics, these compact machines facilitate your daily storage operations, especially in confined or congested spaces and narrow aisles in warehouses.
EMA II trucks have the advantage of being operational both indoors and outdoors. Thanks to their flexible tires, the floating front axle and the higher ground clearance than conventional trucks, they adapt to all your storage problems and offer perfect stability to the drivers.
Versatile, our articulated trucks can also be used to supply chains and move loads horizontally. Their front-wheel drive also allows for more precise straight-line driving than most models on the market.
The EMA II range offers the operator excellent visibility of the load being transported, whether in working or front position. The driver's cab provides a smooth and fluid ride and perfectly controlled storage operations.
Dedicated to heavy duty applications (1.3 ton load capacity), EMA II articulated trucks improve your productivity both outdoors and indoors and keep your production cycles efficient. The range of masts proposed can go up to more than 10 metres, ideal for handling loads at great heights.
Discover our shopping offer
Advantages of our articulated forklift trucks
EMA II electric articulated forklift trucks are among the most powerful handling solutions in the field of warehousing and logistics. Take advantage of their many benefits to make your work easier and ensure complete operator safety:
Ease and comfort of use (easy to use conventional levers, power shuttle, ergonomic operator's station)
Easy access to the machine (double non-slip steps, large handle on the left upright, access to both sides of the machine)
Pleasant driver environment (display, lighting, large foot space, storage)
Enhanced safety (speed and acceleration limitation of the truck when handling at great heights, panoramic rear-view mirror, start button on slopes, audible signal in reverse)
Excellent visibility (honeycombed protective roof for optimum visibility when working at height)
Manitou teams can help you choose an EMA II articulated forklift truck model that precisely meets your logistics needs. Contact us at any time and take advantage of all our support services: tailor-made financing solutions, maintenance, repairs, replacement of original parts, extended warranty, etc.
Contact your dealer