Our spare parts solutions Manitou original filters
Because new technologies have increasingly smaller operating clearances, adequate filtration is essential. Manitou filters stop and store the tiny impurities that can otherwise circulate around your machine and cause irreversible damage.
Why choose Manitou's original filters?
High-performance filter media:
Equipped with our extremely fine filter media, Manitou filters have a larger surface area than conventional filters, retaining up to 99.99% of impurities. The filter media is also specifically designed to limit pressure drop, preventing productivity loss and component damage (cavitation).
The metal structure that supports the filter media protects your filter from the risk of being crushed in case of overpressure vacuum. The quality of bonding and its resistance also prevents any risk of the filter media coming off.
Our crimped filters are also equipped with a relief valve, which, in cold weather or in the event of clogging, ensures continuous fluid circulation and prevents cavitation or the lack of lubrication.
The exceptional quality of Manitou original filters:
Only genuine Manitou filters are fully compatible with your machine. Designed with quality materials and laboratory tested, they are more resistant to hydraulic pressure and vibration. Their high quality composite filters clean the oil through its specific double layer structure.
Save money in the long run. More resistant and perfectly designed for your machine, genuine Manitou filters protect the key components of your machine from any damage, ensuring optimum performance and longevity.
Manitou filter kits for periodic maintenance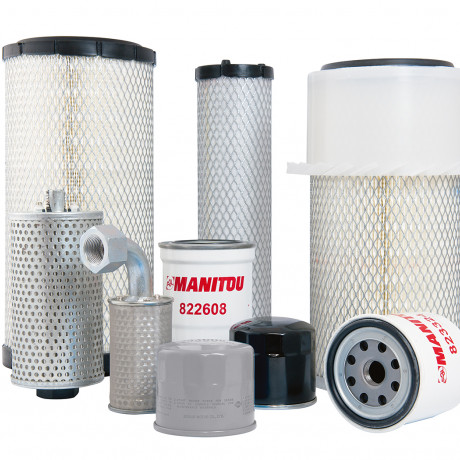 Overhaul your machine by respecting the filter replacement intervals according to the manufacturer's recommendations (refer to your use and maintenance manual or contact your Manitou dealer).
To facilitate periodic maintenance, Manitou has developed filtration kits specific to the model of your machine. They contain all the original components required for 500 or 1000 hour maintenance: air filter, diesel filter, engine oil filter, hydraulic filter, transmission filter and strainer (composition according to models).
To preserve the original qualities of your machine, only use original Manitou filters.
Contact Us