Our spare parts solutions Electrical components
Repeated starts in all weathers, shocks and extreme conditions? Regularly renew the electrical components of your machine with Manitou's range of original parts.
Every day, your Manitou machine is subjected to various external stresses and strains. Shocks, vibrations, bad weather, climatic variations and repeated starts are all parameters that place heavy demands on the electrical components of your machine.
For greater productivity and driving comfort, machines today are full of electrical components. You need to be able to rely on your equipment. That's why Manitou selects electrical and starting parts with the utmost rigor to guarantee you longevity and perfect conformity with the design and overall system of your machine.
A generic battery or a Manitou battery: what's the difference?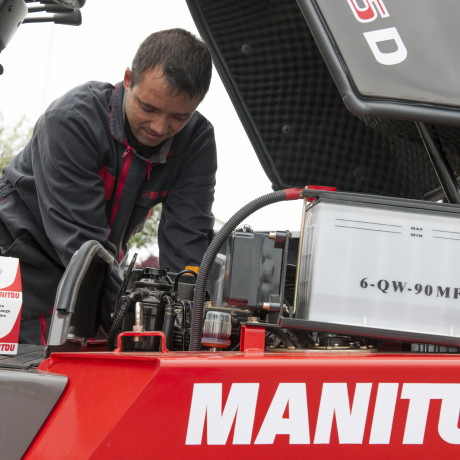 Manitou offers a wide range of batteries. Selected for their performance and durability, the original manufacturer's batteries avoid any starting problems!
Manitou batteries perfectly match the needs of your machines. The quality of their components ensures a long life, essential for intensive and maintenance-free use. In addition, they are guaranteed for 24 months, practical to handle and ready to use.
The technical secrets of Manitou batteries:
Insulating, unbreakable and resistant to different acids and gases
Equipped with a coding system for several voltage regimes
Auxiliary contacts in silver plated copper treated against oxidation, fixed by a central screw very easy to change in case of wear
Standard cables
Connection by welding or crimping
Maximum voltage of 150 volts.
Why use original Manitou electrical spare parts?
How to choose the right amperage for your alternator? How to change a starter? And why? With Manitou original parts associated with the model and type of your machine, you can be sure to find the right part number that is 100% compatible with the performance and safety requirements of your machine's entire electrical and electronic circuit, without damaging any other components.
Ask your Manitou dealer for advice on how to maintain your machine: alternator, starters, bulbs, horns, starter batteries, contactors, fuses, etc.
By choosing genuine Manitou parts, you are making the choice of quality and performance for your machine in a durable way.
Contact your dealer