Our range of Pipe handler
Improve the safety of your tube or pipe handling with Manitou clamps. Compatible with your heavy-capacity telescopic handler, these attachments make your handling operations easier. Discover their performance, and choose a tube or pipe handler model adapted to your requirements.
An ideal all-rounder to secure your manipulations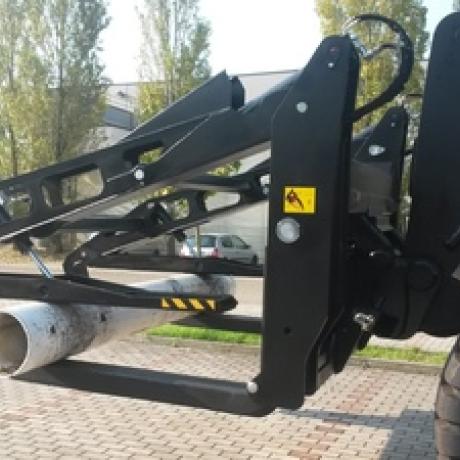 As a professional in the mining or oil & gas sector, you are regularly required to handle bulky pipes and hoses. These handling operations must be carried out with adapted equipment capable of moving your loads in complete safety. It is to meet these needs that Manitou has designed a range of specific clamps.
Our pipe/tube clamps facilitate the transport and installation of your elements. Thanks to their grapple equipped with hydraulic pressure pads, they stabilize your pipes and hoses in an optimal way during handling. These features make them particularly suitable for use in the mining, oil and gas sectors.
These high-end accessories have the advantage of being versatile. Use them to handle your pallets and move your loads! Available with floating or fixed forks, they adapt ideally to your different applications.
Our pipe and hose clamps are compatible with two models of telescopic handlers: the MHT 10180 and MHT 10230. Check the compatibility of your machine before investing in a clamp!
The technical characteristics of Manitou pipe handler:
Load capacity: 14,000 kg
Fork length: 2400 mm
Width: 2500 mm
Fork thickness: 120 mm (90 mm version available on request, capacity reduced to 10 tons)
Weight: 3800 kg
Take advantage of the performance of our clamps to improve your productivity on the job site. Our accessories optimise the use of your material handling equipment, making them versatile machines.
Go to the product sheet
Advantages of pipe / tube clamps
Manitou clamps meet the requirements of the major players in the mining sector. They offer you, professionals, a large number of advantages:
Excellent stabilization of tubes / pipes
Maximum operator safety during handling
Precise load handling
Separate control of grapple and pressure pads for greater accuracy
Multifunctional use
Easy to install
Simplified maintenance
Install in a few minutes the pliers on your telescopic trolley thanks to our attachment system. The speed of the operation will save you time in the realization of your operations.
Manitou offers several other accessories specific to the mining sector: compact tire clamps, tire clamps. Complete your equipment with equipment that is world-renowned for its reliability!
Manitou dealers can assist you in all stages of your tube/pipe clamp purchase project. Take advantage of their tailor-made service, and find financing solutions adapted to your business constraints. Our teams can also advise you at any time.
Discover our range of accessories dedicated to mines