Our range of Rib Handling Platform
Manitou offers two models of hydraulic clamps for handling and placing ribs. These top-of-the-range attachments are distinguished by their hydraulic opening from 120 mm to 450 mm and their high degree of precision. Use them to handle your metal or wooden elements in the best conditions!
Optimize the handling and installation of ribs on site with the Manitou handling platform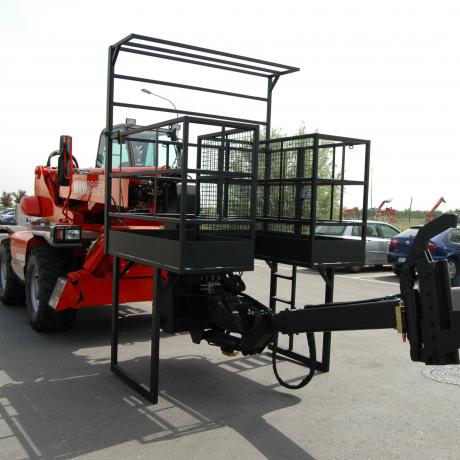 Handling ribs on your building sites is a delicate operation. It is necessary to be able to move and install these elements in a precise and safe way in order to succeed in the construction of vaults (or the support of the galleries of your mines and tunnels). The rib clamp meets all these requirements. Thanks to a wide opening, it allows you to load and transport elements of different dimensions efficiently, whatever your business constraints.
This range is available in two models with distinct characteristics: the PSC 20, compatible with MHT, MRT Easy and MRT Privilege +the PSC 40, compatible with MHT, MRT Easy, MRT Privilege + and MRT 2470 and 3050 machines. Check the compatibility of your telescopic handlers before investing in an accessory!
The technical characteristics of Manitou's rib handling platform :
PC 20PC 40
Carrying capacity :2000 kg4000 kg
Min. opening :120 mm 120 mm
Max. opening :450 mm450 mm
Arm rotation: 45 degrees
Head rotation :+/- 65 degrees+/ - 65 degrees
Weight:450 kg (1,500 lbs.) 450 kg
For greater precision, the bend clamps offer hydraulic arm movement and manual head rotation. These attachments can also be used with a remote control or directly in the cab.
Learn more about our hanger clips
Advantages of Manitou rib handling platform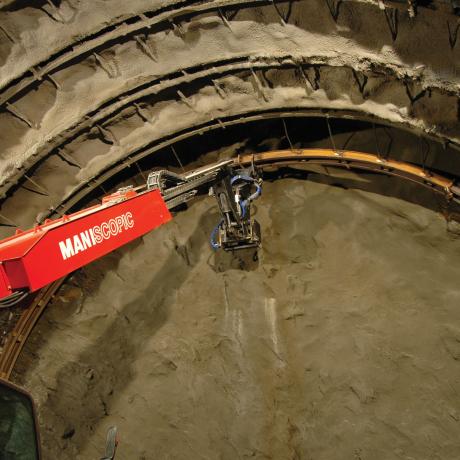 Our clamps for telescopic handlers are reference accessories in the construction industry. Whether you work in the mining sector or in tunnel and frame construction, they meet all your requirements in terms of handling and positioning of ribs.
By using a Manitou rib clamp, you benefit from several advantages:
An accessory directly connected to the couplings of the machine
A hydraulic clamp specially designed for handling hangers
Very easy to install: you can install your accessory in a few minutes thanks to the attachment system on the telescopic trolleys.
Two models capable of meeting all your needs
Very easy to maintain
Perfectly safe conditions of use
Would you like to buy a rib handling platform for your rotating telescopic handler? Your Manitou dealer can answer all your requests. Don't hesitate to contact him for advice on the models corresponding to your activity and our different financing solutions. The Manitou teams are also at your disposal at any time to present our range of accessories and all our services: purchase of accessories, tailor-made financing solutions, after-sales service, maintenance, etc.
Contact your dealer