Our range of Wrapped bale clamps
Manitou offers a dedicated clamp for transporting wrapped bales. Compatible with your MLT agricultural telescopic handler, this top-of-the-range attachment has a smooth arm structure that prevents any perforation of the film. Use this clamp to easily transport and store your hay bales!
A clamp for easy transport / storage of wrapped bales
Transporting wrapped hay bales is a delicate operation. When handling, you must take care not to damage the protective film and then store the bale correctly. The Manitou clamp has been designed to meet these requirements: its smooth arm structure prevents punctures and allows you to move the bale efficiently.
With the wrapped bale clamp, your hay handling and storage operations are optimized! Move your bales easily, whatever the size of your farm.
Our wrapped bale clamp allows you to make a monetary gain over other unsuitable accessories, which could damage the bale and cause it to lose its quality.

It can also be used for handling unwrapped bales.
Two models are available for farmers: the CLBW 800 and CLBW 1500 clamps. These clamps are compatible with several ranges of agricultural telescopic handlers. You can use the MLT 420, 625, 630, 635, 730, 733, 737, 741, 840, 845, 940, 961 or 1040 as well as our MLA-T 533 telescopic articulated loader. Check the compatibility of your machine before investing in a bale clamp!
Technical characteristics of wrapped bale clamps :
CLBW 800 CLBW 1500
Load capacity :800 kg 1500 kg
Weight : 227 kg 206 kg
Minimum bale diameter: 820 mm 1000 mm
Maximum bale diameter: 1500 mm 1700 mm
The two ranges of clamps offer a non-synchronized closing, and are equipped with self-lubricated anti-wear rings giving an increased longevity to the accessory.
Learn more about our wrapped bale clamps
Optimize your telescopic handler with a simple bale clamp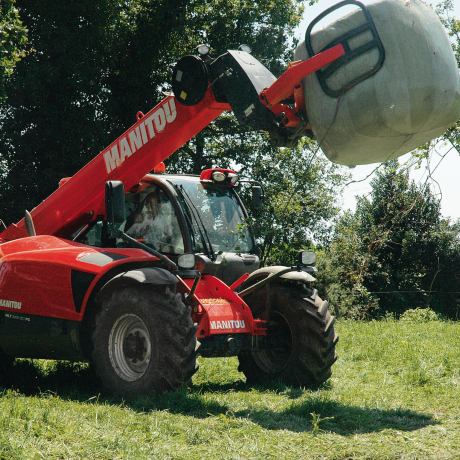 The wrapped bale clamp is the perfect solution for your transport and storage needs. Guaranteeing fast and precise operations, it optimises the use of your agricultural telescopic handler.
All our grapples are very easy to install. Thanks to the Manitou attachment system present on your machines, you can install your attachment in no time at all without having to turn off the engine.
Several other ranges of clamps are available: super-compact bale clamp, classic bale clamp, square bale clamp, intensive bale clamp... Discover also models of grapple buckets, agricultural buckets, manure forks, bale forks or big bag handlers.
After checking the compatibility of your machines with our accessories, contact your Manitou dealer to purchase the range best suited to your activity! Our professionals can help you find a model of wrapped bale clamp that precisely meets your needs. We are always available to introduce you to our handling equipment and our various services: after-sales service, repairs, genuine replacement parts, maintenance and financial solution.
Contact your dealer