Our range of ultra-compact ULM telescopic handlers
Does your work application require to use handling equipment with small dimensions? Are you a mason, farmer or a landscaper who needs a compact and easily transportable forklift?
Discover the characteristics and advantages of our Ultra Light Manitou range: ultra-compact Manitou trucks, transportable on a small trailer with the ability to fit into particularly tight spaces, to efficiently accompany you in your daily tasks.
What are the features of the ULM cart range?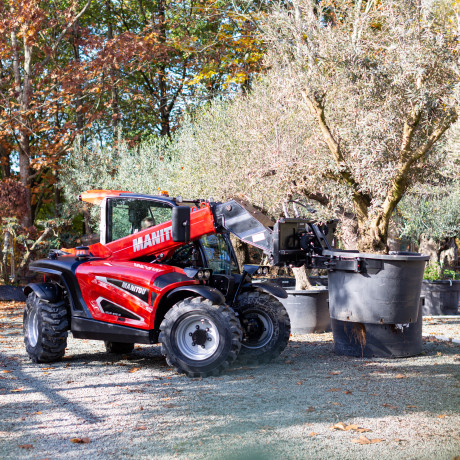 The ULM 412 H and ULM 415 H telescopic forklifts are ultra-compact and can be transported on a small trailer, with a total weight of 3,500 kg. Equipped with a 35 horsepower engine, they can lift loads of 1.25 t or 1.5 t, depending on the model, up to a height of 4.30 m.
Their small dimensions, less than 1.50 m wide and 1.92 m high, allow them to pass between hedges/landscapes, or even through a double door. Their 29 cm ground clearance is ideal for overcoming many obstacles.
If you work in the agricultural sector, on small building sites, construction sites and communities, parks and gardens, if you are a cattle breeder, an equestrian center, a nurseryman, a landscaper, or if you are an event company, a handling equipment rental company, a local authority, ... these new generation forklifts will be your best allies every day, whatever the operation you have to perform.
In addition to these exceptional capabilities on the telescopic handler market, your ULM machine can be equipped with accessories, which have been specifically designed by our specialists.
This range of 20 accessories, carefully designed for your machine, is available in 3 connection systems: Standard 4-point carriage, Euro carriage and Skid steer carriage.
- CAF: floating fork carriage
Robust and essential for handling palletized loads, the forks fold to roll safely and facilitate the transport of the machine.
- BGP: all-purpose bucket
Dedicated to construction applications, this bucket is ideal for moving bulk materials with a maximum density of 2100 kg/m3, with a capacity of 400 liters.
- CLBR : bale clamp
An essential accessory for farmers for the rapid handling of hay bales, this grab also exists in a version for wrapped bales.
see the ulm machines
The advantages of our ultra-compact carts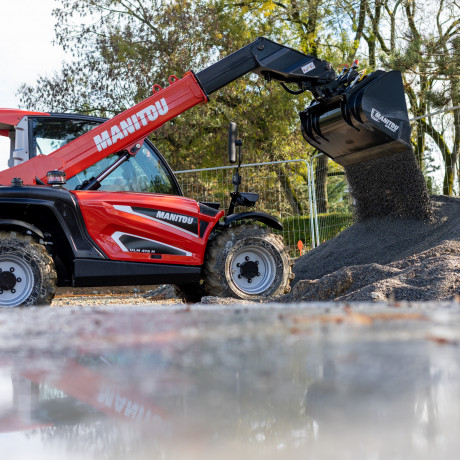 The ULM machines are comfortable. They contribute to improving your safety and profitability. Their unique design gives them precious assets, which will make them indispensable equipment in your daily work.

- Enhanced safety
The roof grille has been removed and replaced by a transparent, impact-resistant polycarbonate window. The visibility when the load is in the upper position is exceptional, and the cab still meets the FOPS standard.

- Machines designed for your profitability
Thanks to an anti-emulsion filter, the ULM truck is equipped with a hydraulic tank whose capacity is reduced by 25% compared to standard tanks. This reduces your costs. In addition, the hydraulic compensation has been replaced by an electronic compensation: the absence of a cylinder also reduces the need for oil, and limits the weight of the machine, as well as its width.

- Your comfort first
The Switch and Move Joystick (JSM), positioned on a floating armrest, allows you to work comfortably: you control your machine, and can make all movements with one hand safely and without fatigue.
- Connected machines, to save you time
The ULM range of forklifts are connected machines: this means that you will have information and alerts on your PC, your tablet, your smartphone, to control maintenance, anticipate maintenance operations, reduce intervention times and monitor performance.
"For this project, the Manitou group received support from the Brittany region and in particular from the European regional development fundsFEDER, to help it invest in research, technological development and innovation, via the call for projects "innovation for the industry of the future" aimed at Breton SMEs and ETIs."
Are you interested in our ultralight machines? Contact your dealer, who will be delighted to advise you.
contact a dealer