Our handling solutions for Aircraft Access Means
Renowned specialist in handling, Manitou offers you several means of access to high-performance aircraft. From the Rotating Telescopic Handlers (MRT) and the Articulated Aerial Work Platforms (AETJ), these latest generation machines give you the opportunity to approach your aircraft with precision and work on their maintenance in complete safety. Use our solutions to access your aircraft and efficiently maintain their various components.
Ideal machines for safe access to aircraft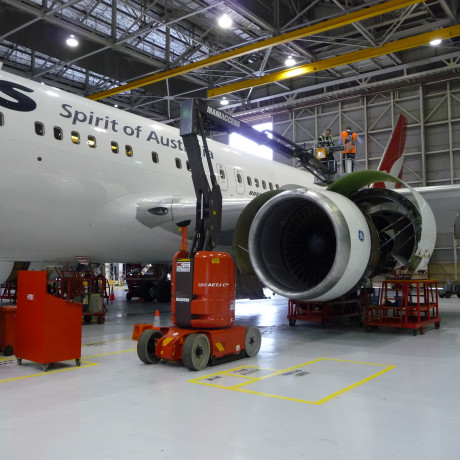 Manitou is a privileged partner of the aeronautical sector anywhere from line maintenance to engine maintenance and indoor or outdoor locations. Thanks to machines designed by our experts, we can meet the specific requirements of the personnel in charge of aircraft MCO as they must be able to operate the aircraft in optimal safety conditions every day. All baskets are equipped with a driver assistance system (ultrasonic and laser sensors) and foam and rubber protection.
Equipped with exceptional features, Manitou machines allow technicians to quickly access the various aircraft components, in restricted or non restricted areas. The ranges dedicated to the maintenance and control of aircraft allow them to work with ease and comfort up to 25 meters for indoor or outdoor use.
Manitou offers several models of aerial work platforms and telescopic handlers. These machines are made with the consumer in mind and able to adapt to lifting problems of civil and military aviation tends to have. The Manitou machines will handle all tasks related to the maintenance and servicing of aircrafts while ensuring optimum safety at all times.
Our aerial work platforms and Truck Mounted Forklifts are compact and easy to handle. With different lifting capacities depending on the range, they are ideal for operating with precision and comfort. We also offer machines which will be a great help when you need to move around in cramped areas or restricted work zones.
Check out our Aeronautics solutions
The benefits of Manitou's aircraft maintenance solutions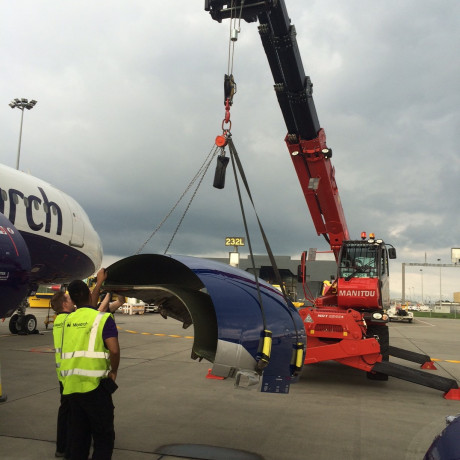 Manitou engineers and technicians have designed state-of-the-art aircraft access solutions. Today, these machines have become indispensable for the major players in the aeronautics sector, who can take advantage of their many benefits on a daily basis:
High precision of movement
Perfectly safe working at height
Easy access to the units (3 tilt angles available), even in confined work spaces
Comfort and ease of use
Optimum safety for operators
Work platforms equipped with driving aids (ultrasonic, laser and video system)
Bi-energy system
Equipment versatility
Precise movement of equipment and people
Robustness and resistance
Simplified machine maintenance
With Manitou, you can also take advantage of several support services capable of optimizing the use of your aerial work platforms and forklift trucks: tailor-made financing solutions, maintenance, repairs, replacement of original parts, after-sales service, extended warranty... Thanks to our worldwide dealer network, we can meet your needs as quickly as possible. Do not hesitate to contact one of our team members who will find a machine that is best suited for your requirements. We are at your disposal at any time to help you with your project and facilitate the handling, maintenance and servicing of your aircraft fleet.
A particular need? Our "special solution" team will study it carefully.
Contact our experts