Our range of ES electric stackers
The Manitou ES range offers a wide range of electric stackers (24 V) from 1000 to 3000 kg. Entirely developed and manufactured in France, these machines help you to efficiently carry out all your operations of moving, lifting and storing loads within your work areas.
Electric stackers adapted to all your requirements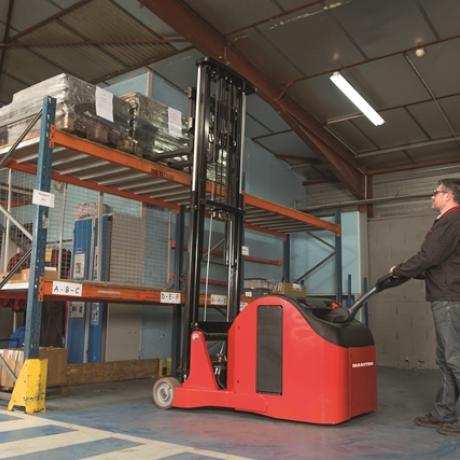 The electric stackers of the ES range have different lifting capacities depending on the model (from 1.50 metres to 5.40 metres). Equipped with a mast, they allow you to move, lift and store your loads at low and medium heights in complete safety.
With Manitou ES stackers, you can operate quickly and efficiently in your warehouses. Their compactness makes them very maneuverable, even in cramped work areas. Depending on the desired machine autonomy (e.g. shift work), you can choose the capacity of your battery.
The ES stackers are also available in Longitudinal Frame (LE) and Initial Lift (LI) versions.
The initial lift allows you to travel over uneven ground, especially when driving over platforms or on slopes. Stackers with straddle bars are available in different spacings and allow you to transport closed pallets and boxes.
A counterweight version (cantilever stackers) will provide you with optimized solutions for all types of loads. These different versions are suitable for all configurations of use.
Do you have specific handling needs?
Manitou's teams can study your different requirements and design customized electric stackers. This way, you get a handling solution precisely adapted to your needs.
Access to all our shopping solutions
The advantages of ES shopping trolleys for professionals
Manitou designs high-performance, reliable and perfectly safe stackers, which today offer a large number of advantages for professionals:
Ease of use indoors
Perfect manoeuvrability, even in narrow and cramped working areas.
Ideal mast heights for storing and transporting your pallets
Optimum safety ensured (emergency stop punch, low skirt, anti-crushing button, 4- or 5-point frame, protective plexiglass)
Display and settings (travel speed, acceleration power...)
Versatile solution for moving, loading, storing and transporting different types of loads
With Manitou, you also benefit from several support services throughout the life of your machines. Our network of dealers throughout France allows you to quickly obtain a solution adapted to your problems. Contact our teams to help you choose an electric stacker adapted to your industrial activity.
Contact our experts