Our spare parts solutions Pallet trucks and forklifts
French specialist in handling, Manitou offers you a wide range of forks and manual pallet trucks for the daily handling of loads on pallets.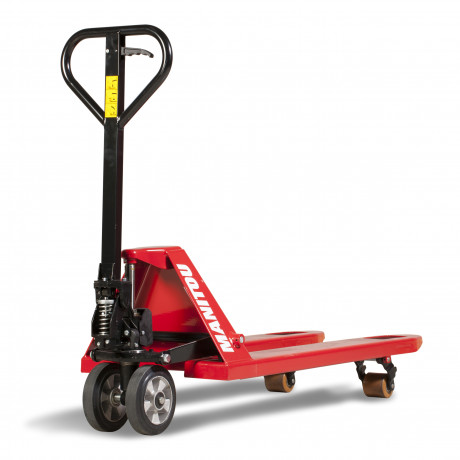 For your handling needs, from the simplest to the heaviest and most cumbersome loads, you will find all the solutions in the Manitou range: hand trucks for occasional deliveries, standard or specific manual pallet trucks, as well as the handling forks FEM or eye forks to be installed on your Manitou fork carrier for the heaviest loads.
Manitou has developed different types of forks to meet your handling needs. They differ according to the type of deck hitch, the tonnage of the forklift truck and the type of product being handled. Manitou mainly focuses its range on 3 categories of forks:
- Standard forks (FEM) for industrial and telescopic forklifts, in compliance with the FEM - ISO 2328 standard for attachment
- Special forks for Manitou industrial trucks. Hybrids between ""standard"" and ""specific"", they have specific types of hooks and attachments to adapt to Manitou aprons.
- The eye forks for industrial and telescopic forklift trucks with floating fork carriage. Mobile over the width of the carriage, they comply with the ISO 2330 hitching standard.
Regularly check the wear of the fork beads with the wear control tool, or caliper: If the thickness of the bead shows a wear of more than 10% compared to the original thickness, the 2 fork arms must be changed.
For moving and handling pallets, Manitou markets robust hand pallet trucks adapted to your activity: agriculture, transport, industry, construction, etc. but also specific pallet trucks (high lift, wide forks, short forks, with weigher, stainless steel, etc.) according to the specificities of your trade.
Equipped with extremely resistant chassis and forks, our pallet trucks are designed to work in demanding conditions with repeated handling. Equipped with the Quicklift® system or proportional valve pump, these technologies assist you in lifting the load and reduce effort: the speed at which the forks are raised and lowered is adjusted according to the pressure applied to the lever.
Different types of wheels and roller materials are available to adapt to your working environments:
Quiet travel
Reinforced floor grip for corrosive environments
Double rollers to help crossing levels.
Find all our load handling equipment at your Manitou dealer.
Contact us