Our handling solutions for Mining : storage and warehousing
Are you looking for storage and warehousing solutions for the mining industry? Manitou offers you a wide range of handling equipment adapted to your business constraints. Meet the needs of the operators onsite with Manitou equipment renowned worldwide for its performance!
High-performance handling equipment for storage and warehousing
Professionals in the mining sector are confronted every day with various large-scale logistical operations. Whether it is to store equipment, unload/load trucks, organize rapid rotations in complete safety or store parts (crusher parts, jacks or tires), must have high-performance equipment to carry out their tasks efficiently. Operations that are essential to run your mining operations smoothly.
Manitou has been the preferred partner of mines and quarries for many years. Thanks to this extensive experience, our teams offer storage and warehousing solutions perfectly adapted to your requirements. At the cutting edge of technology, this equipment optimises your storage and warehousing operations, both indoors and outdoors.
For indoor work, our range of electric forklifts, pallet trucks and stackers have an autonomy that allows you to use your machines all day long without any problem. Resistant and powerful, the wide ranges of equipment ensure that you can store and handle your loads in optimal conditions for both comfort and safety.
For outdoor work, several machines are available in 4-wheel drive. They can help you in your operations whatever the ground conditions, including rough and uneven terrain.
Several forklifts models such as semi-industrial and truck-mounted forklifts are also multifunctional. Versatile, they allow you to quickly change accessories (side-shift carriages, fork positioners, rotary clamps or hook arms) without having to turn off the engine.
Optimize all your storage and warehousing operations with Manitou machines - our solutions are used today by the major players in the mining industry.
Check out our Mining solutions
The advantages of Manitou's storage and warehousing solutions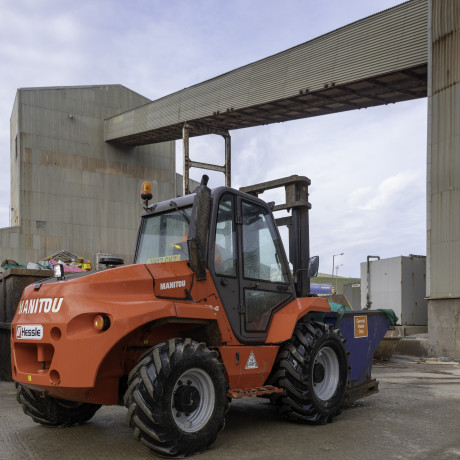 Manitou's handling solutions offer many advantages for operators in the mining sector:
Robust and ergonomic design
Ease and comfort of use
Optimum safety for operators
Easy handling, even in congested, cramped or difficult to access work areas
Great versatility
Ease of maintenance (easy access to main components)
Precision of movement
Spacious driver's cab
360-degree visibility from the driver's seat
Do you need assistance in your project? Manitou's teams can assist you on the most suitable storage and warehousing solutions for the mining and quarrying sector. To facilitate and optimize the use of our machines, we offer you several maintenance, servicing and repair services, as well as tailor-made financing solutions. Find all the advantages that Manitou has to offer online.
Any particular need? Our "special solution" team will study it carefully.
Contact an expert