Our material handling solutions for Open Pit Mining
Manitou has been the preferred partner of open-pit mining operations for several decades. This extensive knowledge of the market enables us to offer handling solutions that are perfectly adapted to the requirements of professionals. Safe, versatile and efficient, our machines will support you in all your maintenance operations. They reduce your equipment downtime and increase your profitability.
Handling equipment adapted to the constraints of the mining sector
Professionals in the mining sector need state-of-the-art equipment to carry out their maintenance work in complete safety on dumpers, excavators or conveyors: regular replacement of wheels, cylinders, motors, hydraulic pumps or track rollers, etc.
The machines designed by Manitou meet their requirements with precision as they help to carry out all their handling operations efficiently, whatever the ground conditions (rough, uneven and muddy terrain).
Machines of different ranges are particularly suitable for mining work, whether it be heavy-duty telescopic handlers, rotating telescopic handlers or aerial work platforms. Featuring 4-wheel steering and a design of great robustness and reliability, these machines designed specifically for mining are ideal for operating with speed and precision.
Manitou machines also have the advantage of being versatile. By allowing you to change attachments in a few minutes, they provide you with a specific solution for each application. The following equipment is available: platforms, winches, hooks, etc. Our range of accessories for the mining industry is essential to ensure the maintenance of your equipment. They make it easier to manage the maintenance of your fleet while reducing the number of equipment used.
Check out our Mining dedicated website
What are the advantages of Manitou's solutions for open pit mines?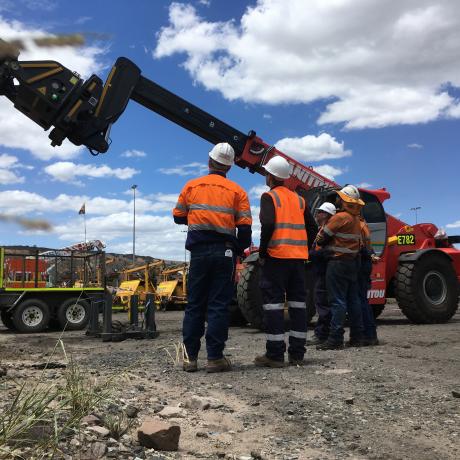 Manitou machines have been the reference solutions for the mining sector for several years. They are equipped with mining specifications factory. Their exceptional features allow professionals to make significant time savings whatever the operation (handling of jacks, tires, heavy loads) and improve their productivity.
The advantages of Manitou machines for mine maintenance managers:
Precise, intuitive and flexible movement control
Off-road function (4-wheel drive and steering, interchangeable steering mode)
Versatile function (several compatible accessories easy to change)
Fast and reliable solution (e.g. replacement of heavy-duty cylinders in only 4 to 6 hours instead of 2 days)
Optimum handling safety
Comfort and ease of use
Rugged and resistant design
Unmatched performance in the rough-terrain material handling machine market
360-degree visibility from the driver's seat
You wish to be accompanied in your project? Manitou teams are at your disposal at any time to advise you on handling equipment for open-pit mines. Contact our experts and discover all our services of excellence capable of optimising your machines throughout their life: maintenance, repair, replacement of original parts, after-sales service, extended warranty.
Do you have a particular need? Our "special solution" team will study it carefully.
Contact our dealer network dedicated to mining