Our range of EP Electric Pallet Trucks
The EP range offers several models of electric pallet trucks. Offering different load capacities depending on the version, they have been designed to adapt to a wide variety of warehouse applications. Use them to move your heavy-duty pallets safely within your warehouses and storage areas.
Powerful pallet trucks to move your pallets over short distances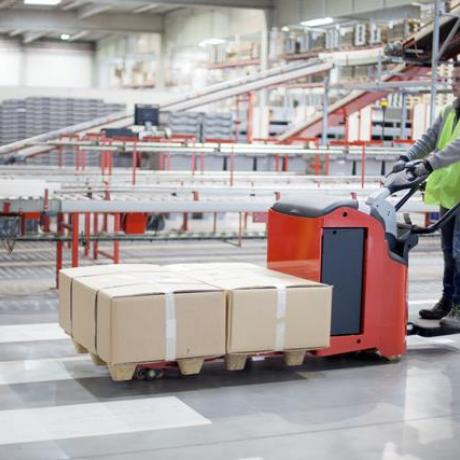 EP electric pallet trucks are ideal solutions for moving pallets easily and safely. They have been specially designed to handle loads in light flows over short distances indoors.
The EP range offers pallet trucks with different load capacities (from 1500 to 5000 kg). Developed according to Manitou's extensive experience in handling solutions, this warehouse equipment guarantees perfect efficiency and maneuverability for logistics specialists.
Two versions of EP electric pallet trucks are available.
Ride-on pallet trucks: these models are equipped with a transport platform allowing the driver to move around with the machine.
Pedestrian pallet trucks: these models are manual pallet trucks with electric power assistance.
The EP ranges provide a precise response to the needs of logistics transport professionals and warehouses. The use of these small lifting machines is particularly recommended in warehouses, supermarkets, sales areas...
With EP pallet trucks you can improve the productivity of your storage area and optimize the transport of your pallets and loads. Their robust design and safety system make them indispensable tools for your teams.
Discover our shopping offer
The advantages of electric pallet trucks for professionals
With Manitou electric pallet trucks, with their unique performance and reliability, you get valuable allies every day for transporting large pallets over short distances.
The advantages of the EP range of industrial trucks:
Perfect efficiency for moving and storing pallets from 1,500 kg to 5,000 kg
Great maneuverability and ease of use
Optimal safety
Suitable for all types of industrial applications
Manitou offers you support services throughout the life of your machines to optimize their use and meet your needs as quickly as possible: a worldwide dealer network, maintenance contracts, tailor-made financing, extended warranties, original spare parts, second-hand equipment, after-sales service...
Our teams are at your disposal every day to accompany you in your project and help you find a model of EP electric pallet truck adapted to your industrial activity. Contact us to benefit from our expertise.
Contact a dealer