Our range of TMM onboard trucks
The TMM on-board trucks are the result of Manitou's many years of experience in the design of TMT telescopic on-board trucks. Handling solutions for delivery, these high-performance models optimize your logistics transport operations.
Ideal handling solutions for delivery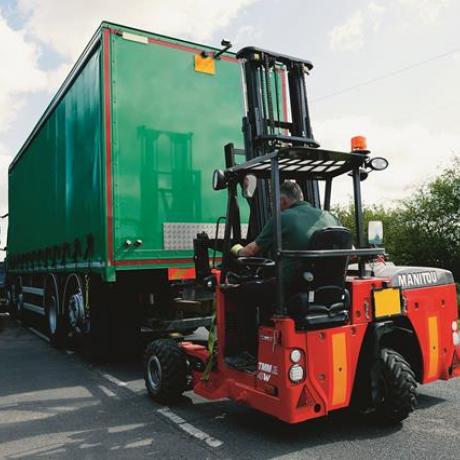 TMM (Truck-mounted forklifts with Mast) trucks have the particularity of being equipped with a mast. Built on the same structure as the TMT (Truck-mounted telescopic forklifts), they can easily be placed at the back of your carriers and trailers.
TMM on-board solutions are ideal for providing an additional service to carriers. Allowing to work in total autonomy, they ensure the delivery of goods until the last meter. The range also offers three mast heights to meet your exact requirements.
On-board mounts fit all truck hitching kits. By tilting the seat forward and folding down the rear driver protection bar, the overhang of the mount is reduced, which is ideal for easy storage of your machine after use.
The TMM range offers 4 models of trolleys from 2000 to 2500 kg. Mobile and powerful, these Manitou trucks are ready to load/unload all types of loads in less than a minute whatever the ground conditions (off-road, urban areas):
Delivery of heavy loads (up to 2.5 tons)
Delivery of long and bulky loads (4-way)
Easy movement of stock in difficult to access and cramped areas.
The unique features of the mast mounted trucks make them the benchmark logistics transport solutions in the materials handling market. Industry professionals can rely on their performance every day to improve their profitability and work efficiently in ideal conditions of safety and comfort.
Discover our range of onboard forklift trucks
The advantages of TMM trucks for professionals
Thanks to their performance, TMM trucks have become a must for logistics transport professionals. They offer a large number of advantageous features:
Easy access to the cabin provided by a large non-slip step and a large handle on the left side of the machine.
Comfort and ease of use: weight adjustment, adjustable seat, seat tilts to on-board function, separate levers to control each hydraulic movement, additional functions available, FNR button, load chart located to the right of the driver's cab, fuel gauge display, A/V, A/R, dashboard with easy access to controls
Perfect safety guaranteed by a certified driver's cab, a safety belt, an easy load approach and hill start function, stabilizers...
Good visibility through the mast and good visibility at height thanks to the honeycomb roof (transparent roof protection optional).
Easy maintenance thanks to the hood openings and simplified access to components.
Contact the Manitou teams for advice on purchasing mast mounted forklifts adapted to your activity.
Contact us