Our innovation Pack Camera SafeView
Discover the Manitou system offering 360 degree visibility from the cab of your telescopic handler. Compatible with MLT telehandlers, the innovative SafeView camera pack gives you all the visual comfort you need to work efficiently, and greatly reduces the risk of collision with pedestrians and/or buildings on your farm.
The SafeView camera pack; 360° panoramic vision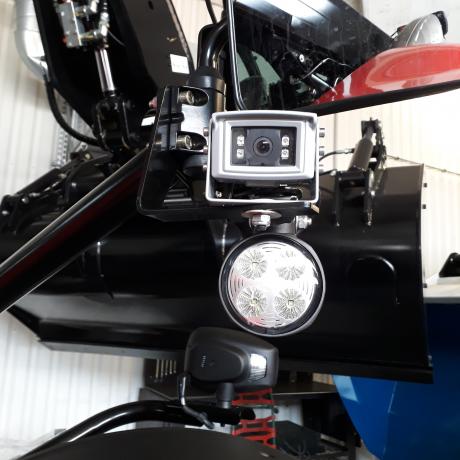 When operating a Manitou Agricultural Telescopic handler (MLT) you need to be able to see the outside environment and the loads you are transporting. This is how you can carry out your work efficiently and ensure complete safety around the vehicle. However, getting a good view behind the wheel of a MLT machine is not easy: whether on the right or behind the telescopic handler, the large size of the machine creates blind spots that prevent you from achieving optimum visibility.
The SafeView camera pack solution has been designed to overcome this problem! Two cameras placed on the right and on the back of the telescopic handler, this innovative system offers you a 360 degree panoramic view from the driver's cab.
Thanks to our state-of-the-art solution, you no longer have to turn around to maneuver. You get ideal visibility at all times, which helps you to transport your loads and handle in optimal conditions of safety and comfort. Make the most of it to gain in productivity! The SafeView camera package is compatible with several MLT agricultural telescopic handlers. Check the compatibility of your machine and call your Manitou dealer.
Discover all our innovations
«
I have full visibility around the machine, no blind spots.
»
What are the advantages of 360 degree vision?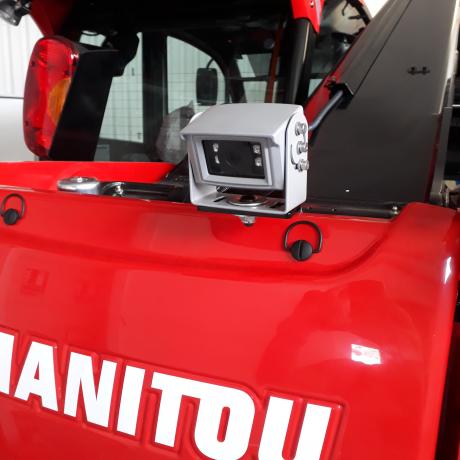 With a 360-degree panoramic view, the Manitou SafeView camera package offers many benefits for you as an agricultural professional:
Optimum safety: 360 degree visibility from the cab with no blind spots. The risks of collision are highly unlikely
Easy to use: automatic activation of the rear camera on the cab display when reversing
High precision: more precise vision with integrated LED lighting for day and night work
Maximum comfort: reduction of musculoskeletal problems related to poor posture caused by low visibility.
Rugged design capable of lasting over time: the cameras are waterproof (IP69K) and compatible with high pressure washing.
Manitou offers several other innovations on its MLT to improve your daily comfort: intelligent adaptive power steering system (CSS) reducing fatigue in the shoulders, elbows and wrists, air seat with adaptive suspension limiting pain in the lumbar region, curved flooring with Easy step securing the ascent and descent of the driver's cab and more
You can also find online all the latest innovations created by Manitou to improve the performance and the TCO (total cost of ownership) of its agricultural telescopic handlers.
Your Manitou dealer is available every day to introduce you to the SafeView camera pack 360 degree visibility system. Contact our professionals and benefit from personalized support tailored to your specific needs.
Contact your dealer