Our innovation Easy Step
Manitou has developed an innovative solution to improve the comfort of its agricultural telescopic handlers: The Easy Step. This curved floor sill, integrated into the machine width, makes it possible to securely lower the cab thanks to an optimal visibility on the step. This innovation also allows the operator to climb into the cab with a straight back, thus reducing arm and lumbar fatigue.
The Easy step: an option designed to improve your daily comfort
Farmers work in often demanding conditions. On average, an operator enters and leaves the cab 10 to 30 times a day. This leads to back fatigue when entering the cab (curved back) and the risk of falling when exiting the cab.
Manitou has developed a number of innovative systems on its machines to reduce these risks and improve daily comfort.
The Easy Step is one of these solutions. It is a curved floor integrated into the machine. Thanks to this innovation, the operator benefits from optimal and safe visibility when getting on and off the operator's platform.
With the Easy Step, your Manitou agricultural telescopic handler (MLT) gains in comfort! You can work every day in the best conditions, and limit in the long term musculoskeletal disorders in the back. This option also allows you to use your machine more easily both day and night, even when visibility is not optimal thanks to the Easy Step lighting.
Discover all our innovations
«
I'm safe because I can always see where I'm stepping, day or night.
»
Advantages of the Easy Step comfort option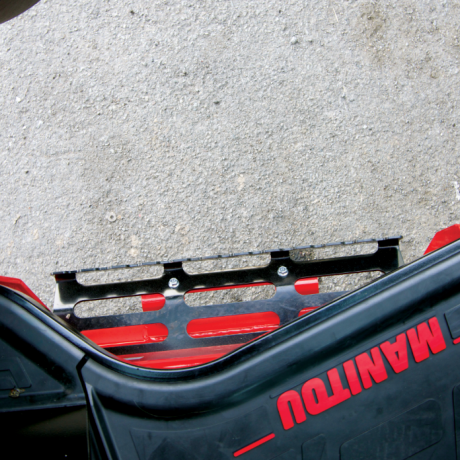 The Easy Step has several advantages in everyday life:
More safety: the Easy Step considerably reduces the risk of falling.
Less fatigue: you enter and exit the cab with a straight back thanks to the curved floor, which reduces fatigue and stress on the back (lumbar area).
More ergonomics: your driving position is now even more practical and functional.
Manitou teams have developed several other high-performance systems capable of improving the comfort of MLT agricultural telescopic handlers: intelligent adaptive power steering system (APS) reducing fatigue in shoulders, elbows and wrists, pneumatic seat with adaptive suspension limiting pain in the lower back, SafeView camera package for perfect 360-degree visibility from the driver's cab...
You can also find online all the latest innovations created by Manitou to improve the performance and the TCO (total cost of ownership) of its agricultural telescopic handlers.
Would you like to benefit from the Easy Step option in your agricultural telescopic handler? Manitou dealers will meet your needs as soon as possible. These qualified professionals are at your disposal every day to accompany you in your project and help you optimize the use of your machines.
Contact our teams and get personalized services adapted to your requirements!
Contact your dealer