Our range of Super Compact Bale Clamps
Manitou's super-compact bale clamps allow you to store your hay bales in very tight spaces. With their forged rounded tines, they offer precise and clean penetration into the material. Use them to handle your round or rectangular bales with precision!
Compact clamp for handling bales in tight areas
You need a high-performance attachment to handle your hay bales in tight spaces? Your activity requires the transport of medium size bales? Discover the Manitou PBG 2x2 super-compact bale grab! For agricultural telescopic loaders MLT, these top-of-the-range accessories are the solution to all your needs.
With its rounded tines, the super-compact clamp allows you to handle and store your hay bales with care. Its compactness facilitates the positioning of bales in very narrow and difficult to access storage areas such as under a shelter or roof.
With the super-compact clamps, your hay is not damaged and is easy to transport. Several models of agricultural telescopic handlers are compatible with the range: MLT 625, 630, 635, 737, 741, 840, 845, 940, 1040 as well as our telescopic articulated loader: MLA-T 533.
This super-compact Manitou clamp is easy to use and solid. It is designed for light-duty use.
Characteristics of the super-compact bale clamps :
Maximum load: 800 kg
Number of teeth: 2x2
Weight: 158 kg
Rectangular bale height: 800 mm max.
Round bale diameter: 1.6 m max.
Non-synchronized closure
Optimize the handling of your hay bales in tight spaces with the super-compact clamps! The unique performance of this attachment meets the needs of the most demanding farmers.
Learn more about our super-compact bale clamps
A bale clamp that is very easy to install on your MLT loader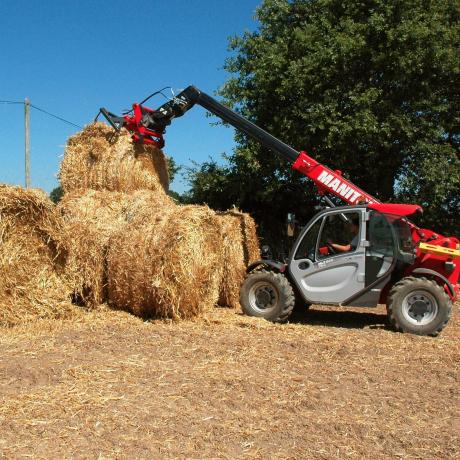 The super-compact bale clamps are very easy to place on your telescopic loader. Thanks to the Manitou attachment system on our machines, you can install your attachment in no time at all. And without having to turn off the engine!
Take advantage of this easy installation to increase your productivity and save time on your working day. The Quick Lift option available on certain MLTs will also allow you to make two simultaneous movements (lifting/lowering + telescoping) with your clamp, which again facilitates your storage operations.
Several ranges of bale clamps are offered by Manitou. Choose the model best suited to your requirements: mixed bale clamp, classic bale clamp, wrapped bale clamp, square bale clamp, intensive bale clamp. Your telescopic handlers can also be completed with agricultural buckets, grapple buckets, big bag handlers, bale forks or manure forks.
Would you like to buy a super-compact bale clamp for your telescopic loader? Your Manitou dealer is at your disposal to advise you and help you choose a model adapted to your agricultural activity. You can of course also contact the Manitou teams at any time.
Contact your dealer