Our range of ER reach trucks
The ER range offers several electric reach trucks with retractable mast. Ideal for indoor handling, these high-precision machines facilitate the work of logisticians and industrialists in the field of storage, transport and movement of loads. Optimize all your operations thanks to their exceptional performance.
Reach trucks for your indoor handling operations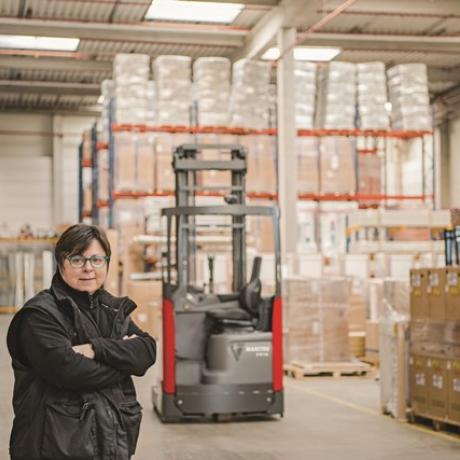 ER handling machines are reach trucks that can only be used indoors. Dedicated to storage areas, they have been designed to optimize logistics flows in an industrial environment. Thanks to the specific mast technology, ER trucks maximize travel speeds within the warehouse and high stacking heights - different working heights are available depending on the model (max. 11.5 metres).
ER trucks are particularly compact. To provide you with solutions adapted to your needs, the range offers masts with different degrees of inclination. This range, with a very sharp design, reduces mast oscillation movements, allows precise use and limits noise pollution when you are in the cab.
The unique performance of ER trucks meets the specific needs of today's warehouse managers. They also save storage space with reduced aisle widths. Logisticians use these machines on a daily basis to transport loads, store and carry out their operations in optimal conditions of comfort and safety.
The ER range offers 6 high performance models with different features. They can be configured to suit your needs, making them safe, reliable, robust and perfectly adapted to your business problems and constraints.
Discover our complete shopping offer
The advantages of ER machines for logistics professionals
ER electric reach trucks are designed to handle loads at high heights and to optimize your various storage operations. They offer a large number of advantages which every day seduce the professionals of the industry:
Ergonomic cab with reclining seat
Optimum visibility of forks, racks and lifted load through the mast and cab
Perfect stability and optimum safety thanks to a range of equipment
Ergonomic and simplified driving
On-board computer with comprehensive information on machine performance and status
Configurable floor height
Three battery outputs available
Specially designed to optimize logistics flows
Easy machine maintenance thanks to quick access to the main components
Carriage versatility thanks to several easily interchangeable compatible accessories (sideshift carriage, fork positioner, etc.).
To enable you to obtain a forklift that precisely meets your needs, Manitou offers several options and configuration levels. Our extensive dealer network also gives you the opportunity to benefit from several support services throughout the life of your machines (repair, maintenance, parts replacement, tailor-made financing solutions, after-sales service). Our teams are at your service every day to offer you the electric reach truck best suited to your activity.
Contact our dealer network