Our range of KLEOS Hand stackers
Move your pallets efficiently with the stackers from the KLEOS range. Manual or semi electric, these Manitou handling machines are ideal for lifting, stacking or storing loads at height. Use them to optimize your warehouse operations.
Reference manual and semi-industrial stackers for light material handling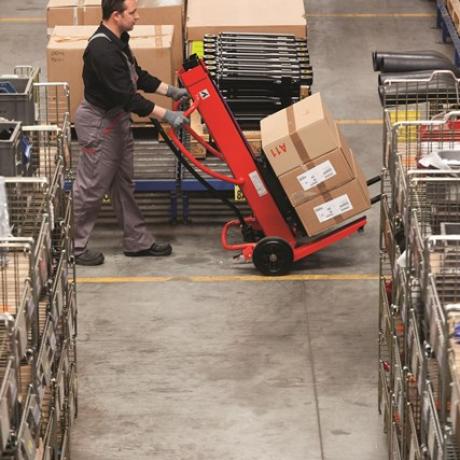 Capable of handling loads from 250 to 1000 kg, these high-performance machines facilitate the stacking of your stock of goods whatever your activity.
KLEOS manual and semi-electric stackers are designed for warehousing work and logistic transport. Compact, ergonomic, they are real allies in daily use to transport pallets, lift loads, stack them accurately over short distances or improve ergonomics at the operator's workstation.
Manitou guarantees perfectly robust handling solutions. Innovative and reliable, the KLEOS ranges allow you to work in optimal conditions of comfort and safety.
In terms of performance, these stackers have all the necessary features to carry out all light handling operations efficiently and quickly. All the more so with their 6 interchangeable tools that allow them to be versatile.
KLEOS stackers are one of the most widely used manual and semi-powered material handling equipment in warehouses. Combining compactness, performance, safety and speed, they are today indispensable for all professionals in the industry. Equip your sites with these high-performance models to save time in your preparations and improve the productivity of your employees!
Discover our shopping offer
The advantages of KLEOS hand stackers for logistics specialists
KLEOS stackers are the result of Manitou's know-how and many years of experience in designing material handling equipment for professionals. Thanks to the skills of our teams, these warehousing tools accompany every day the industrialists in their different stacking tasks. They offer a large number of advantages that make them optimal solutions in storage areas.
Great ease of use
Versatile function thanks to 6 easily interchangeable tools
Lifting capacity from 250 to 1000 kg
Compact design capable of expanding into all storage areas, including the narrowest and most confined spaces
Robust and resistant structure
Operating comfort
Precision of movements
Safe pallet transport
To enable you to have operational handling equipment all year round, Manitou has set up a wide range of support services: maintenance, after-sales service, replacement of original parts, repairs, tailor-made financing solutions, extended warranty... Thanks to these services, you can be supported throughout the life of your KLEOS stackers whatever the challenge. Contact our teams for advice in the choice of your warehousing equipment to meet your needs.
Contact our teams