All-terrain machines 100% electric
The energy transition via low or no carbon emissions is part of Manitou's strong commitment to sustainable development. As a result, Manitou has devised a new machine labeling strategy, called Oxygen, dedicated to the implementation of low-emission solutions.
Today, there are already innovative Manitou low-emission solutions on the market. The range of 100% electric all-terrain machines is set to grow regularly.
Oxygen label: towards 100% electric engines
Manitou's strategy is in favor of clean energy and the environment that allows it to develop an offer adapted to current and future standards on the use of fossil fuels in Europe. Manitou, concerned about the carbon footprint of its products, has been working for several years on the implementation of low-emission solutions, fully electric prototypes, which are as efficient as traditional internal combustion models.
Of course, hybrid and 100% electric Manitou models are already available on the materials handling market.
Other ranges of machines are also affected by electrification: no less than 7 new models from 3 different ranges - MRT, MT and ATJ - have already been launched on the market!
At the same time, other alternative energies to carbon-based energies are being studied, in particular hydrogen, whose applications to handling equipment seem particularly promising.
The Oxygen label allows important environmental, economic and social gains, particularly appreciable for your activity, for your teams, and for the planet:
- The occasional or permanent use in zero emission mode;
- The overall reduction of the environmental impact: CO2, particles, noise pollution;
- Lower energy consumption;
- A reduction in TCO of up to 17% for certain machines.
Check out our Low emissions machines!
Why choose an electric machine?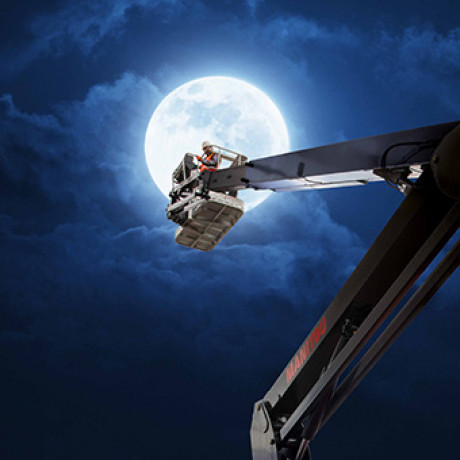 The performance of the electric ranges has been optimized, while retaining all the brand's DNA, i.e. robustness, productivity, quality, innovation and associated services.
The first 100% electric all-terrain aerial work platforms are already available in the 200 ATJ-E range: with multiple advantages, these machines have a carefully designed autonomy, thanks to their 80% recyclable lead battery. Their low voltage allows technical interventions without special certifications. They are light and can be easily transported. The zero-emission mode makes them suitable for all types of work sites, indoors and outdoors, and in urban areas at night.
The noise reduction certainly contributes to the comfort of your teams, and is interesting for your organization, since you can thus extend or modulate the schedules of interventions of your teams.
The versatility of your machine is reinforced: Manitou's electric ranges perform well on all terrains, outdoors and indoors. And to adapt to the needs of each site, they can easily switch from hybrid to full electric mode.
A more intuitive man-machine interface is directly accessible from the basket of the platform featuring an energy consumption indicator, remaining working time, and is offered as a connected solutions to manage fleets efficiently in real time... simplify the use of your machine for all participants, operators and managers.
The strength of the Oxygen label on Manitou machines is the total absence of compromise between the performance of a combustion machine and that of an electric machine: you won't lose efficiency or productivity, quite the contrary.
Are you interested in these machines? Contact your dealer, who will be happy to show you.
Contact a dealer