Our ranges of Buckets
Manitou has various ranges of buckets designed to provide optimum machine productivity.
Choosing the right bucket for the machine and application is crucial, it reduces loading/unloading time and ensures that your equipment ages well.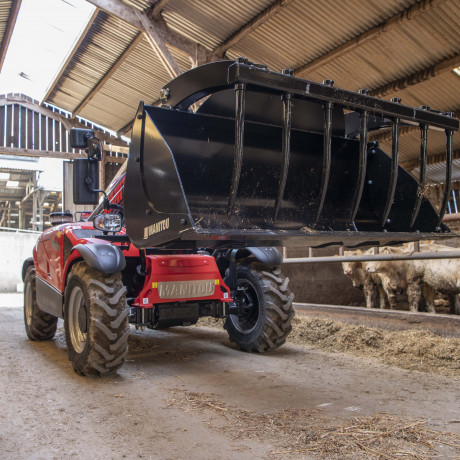 The multi-function grapple bucket.
Intended for our telescopic forklift handlers and agricultural loaders, this accessory is an essential. From grain handling to silage cutting, cleaning and bale handling, it allows you to vary the tasks without changing attachments. This range is available in two versions according to your needs: - Mechanically welded grapple - Forged finger grapple
discover this accessory
Manitou designs and certifies its range of buckets.

Depending on the applications, the types of loads handled and their density, Manitou offers adapted solutions.

Applications in construction:
Our 4-in-1 buckets for various loading, unloading, grading, backfilling and other activities.
Our reclaiming buckets for bulk loading
Our construction buckets for digging, reclaiming or rubble removal activities.
Our concrete mixer bucket for heavy duty concrete and mortar work.

Agricultural applications:
Our agricultural buckets and high-capacity agricultural buckets for handling cereals or animal feedstuffs
Our desilator buckets or mobile twist buckets for cutting silage and feeding cattle
Our multifunctional grapple buckets for various agricultural applications with just one attachment

Specific applications:
Our reinforced environmental buckets for intensive bulk handling applications.
Our multifunctional environmental grapple buckets for waste treatment.
see all buckets