Our range of Manure Fork with Grapple
Manitou offers you 5 options of manure fork with grapple. With their massive and resistant structure, these top-of-the-range attachments are designed to handle materials with a density ≤ 1,200 kg/m³. The adjustable opening of the grapple allows the fork to be used to transport bales of hay or large manure piles. Use this attachment to optimize your farming operations!
Easily transport your bulky manure piles and hay bales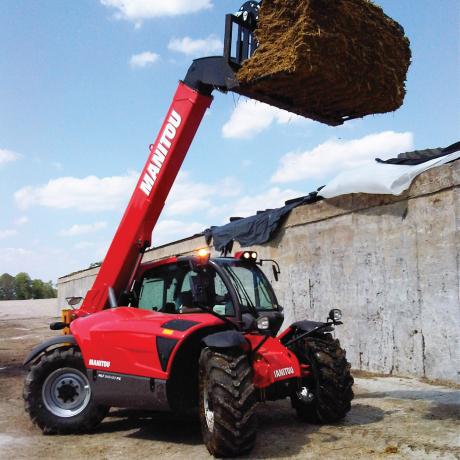 As a farmer, you must regularly handle hay bales or manure. These tasks and storage operations require suitable equipment that allows you to work quickly, accurately and efficiently.
The manure fork with grapple has been designed to meet your requirements. Robust and efficient, they facilitate the handling of your materials with a density ≤ 1 200 kg/m³. The massive fork design is ideal for heavy-duty applications while the powerful grapple with full opening >90 degrees allows you to work effectively against walls.
Thanks to the adjustable opening of the grapple, this model of fork is as suitable for handling manure as it is for handling hay bales. This versatility saves you time in your operations and helps reduce your investment costs.
Manitou offers you 5 ranges of manure grapple forks. Each model has different load capacities, dimensions and number of tines.
These Manitou forks are compatible with several agricultural telescopic loaders (depending on the range). Check the compatibility of your machine before investing in a handling accessory!
Characteristics of Manitou grapple forks :
Load capacity: between 1050 and 1520 litres depending on the model
Number of teeth: 8/7, 9/7, 10/7 or 12/8
Weight: between 505 and 528 kg
Bolt-on tines and fingers for easy maintenance
Learn more about our manure fork with grapple
Why choose a Manitou Manure Fork with Grapple to handle your manure?
Manitou manure fork with grapple is a standard attachments for the most demanding farmers. They have many advantages that make them a must have material handling equipment:
Robustness and impact resistance
Multi-purpose use (transport / storage of manure or hay bales)
Very easy to install (installation is done in a few minutes without having to turn off the machine's engine)
Easy maintenance
Possibility of handling against walls
Different models of forks available
Optimum safety for the operator
Long service life
Would you like to purchase a manure fork with grapple for your MLT telescopic handler? Contact your Manitou dealer! He will respond to your needs as soon as possible. Our teams are also available to advise and help you with your project. With Manitou, you can benefit from several funding solutions and personalized advice throughout the life of your machines.
Contact a dealer