Our Robotic Solutions
Robotic handling solutions are now on the market! The result of the collaboration between the Manitou Group and Effidence, this new range of autonomous machines will allow you to gain in safety, simplicity and efficiency.
Discover how our robotic solutions were born, and all that they can bring you.
Effidence and Manitou: a win-win partnership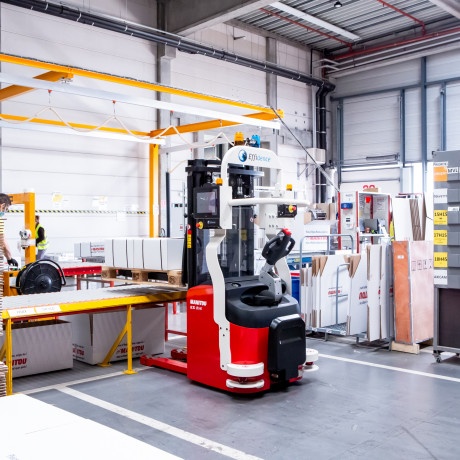 To meet the needs of our customers in robotic solutions, the group Manitou and Effidence have joined their skills.

The complementarity expertise of the two companies, Manitou the expertise in manufacturing forklifts, and Effidence for collaborative robotics has led to the development of a complete and innovative range of warehouse machines.
This strategic business partnership allows Manitou to add robotics to its areas of expertise, and Effidence to expand its range of services to handling activities.
The goal is to cover all your needs with a stand-alone robotic solution.
Discover our range of robotic solutions
Robotic solutions within your reach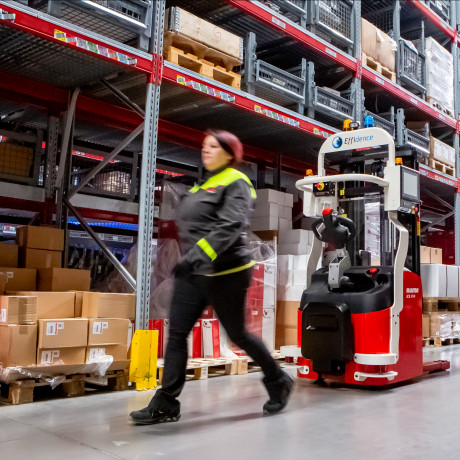 The Manitou Group and Effidence have combined their complementary expertise to design robotic handling solutions.

This new range of intralogistics equipment includes order pickers, tractors, stackers and pallet trucks. These machines of a new kind will ensure some classic missions of handling in full autonomy in the industrial and logistic sectors: preparation of orders on pallets, feeding of production lines, automatic loading / unloading, goods conveying...
These robotic solutions have the advantage of being integrated into all work environments, without interfering with the operators and existing equipment. Reliable, simple and safe, they are also able to analyze data in real time.
Warehouse robots are powerful solutions designed to optimize, secure and simplify your logistics operations.
- Robotic stackers can transport goods while the operator is busy picking: several tasks are performed simultaneously and safely, thanks to the emergency stop system and sensors that detect obstacles. The order pickers are assigned to value-added operations, while the autonomous stackers take care of the transport!
- Autonomous tractors are robust and versatile and move quickly. They are safe vehicles that can go anywhere, even on uneven ground and ramps of up to 10%.
- Robotic order pickers are true logistics assistants, capable of towing heavy loads. They provide substantial gains in productivity and comfort, as the order picker no longer needs to drive his truck.
Are you interested in these robotic solutions? Contact your Manitou dealer, who will present them to you in more detail.
And for more information, visit the Effidence website