Our range of TJ-X platforms
Optimise your operator's work at height, whatever the soil conditions, with the TJ-X range of all-terrain aerial work platforms. Specially designed to operate on uneven and uneven ground, these diesel access platforms meet all your requirements, whether you are a professional in the construction industry (structural work), industrial cleaning, sandblasting, pruning, shipyards or event operations.
High-performance all-terrain aerial work platforms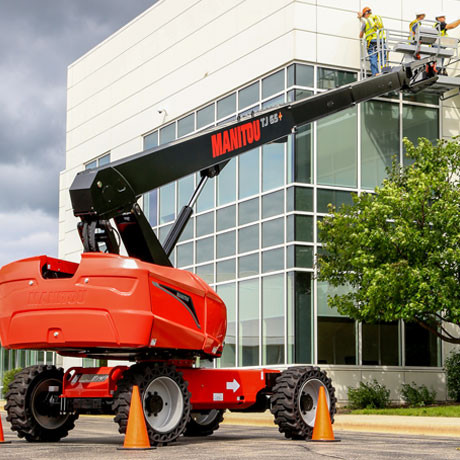 TJ-X aerial work platforms are off-road models with large working heights for operators (up to 27.7 metres). Thanks to their crossing capacity and pivot structure, they allow several movements to be carried out quickly and reach the working area with precision.
The TJ-X range has exceptional features in the 28-metre aerial work platforms market. Equipped with a telescopic jib, these models facilitate your operations, especially for applications requiring negative positioning (working behind a wall, railing...).
Their large baskets with one or three entrances can accommodate up to 3 operators and tools. Ergonomic, the control station facilitates the driving of the platform. You can operate in optimal conditions and perform your operation with precision.
TJ-X aerial platforms are also equipped with continuous 360 degree rotation as standard. The rotation is carried out by a hydraulic motor, the speed of which varies according to the extension of the boom.
To be able to operate in all conditions, even the harshest, the TJ range is equipped with drive axles. These highly reliable components enable the aerial work platforms to adapt to all types of terrain and offer superior performance compared to other technologies on the market. Take advantage of this to improve your productivity and reduce your investment costs!
Discover our range of TJ-X platforms
Advantages of TJ-X thermal aerial work platforms
TJ-X aerial work platforms are handling solutions used by the most demanding professionals around the world. Their features (high working height, all-terrain design) precisely meet the needs of many industries, including construction, industrial cleaning, sandblasting, events, pruning and shipbuilding. Our machines offer these industries with a large number of advantages on a daily basis:
Off-road capability provided by 4-wheel drive, 2 drive axles, 430 mm ground clearance, oscillating front axle, 4 degree dump capability and 360 degree continuous rotation
Great comfort for the operator thanks to the large dimensions of the basket, the cylinder cushioning at both ends of the movement and the ergonomic control station.
Increased productivity: 4 simultaneous proportional movements, vertical or horizontal linear displacement, working offset of more than 21 meters, telescopic pendulum
Enhanced safety with selectable differential lock, double hand guard rails, safety valves on cylinders and load sensors.
Low maintenance
Contact our teams to help you choose the right TJ-X rough-terrain aerial work platform for your business. We are at the disposal of industry and construction professionals every day.
Contact our experts