Our ranges of All-terrain forklift trucks
Manitou is the inventor of the rough-terrain forklift truck. This unique expertise allows us to offer today several ranges of trucks at the cutting edge of technology and innovation. Discover now the performance of our all-terrain handling equipment!
What is an all-terrain forklift truck?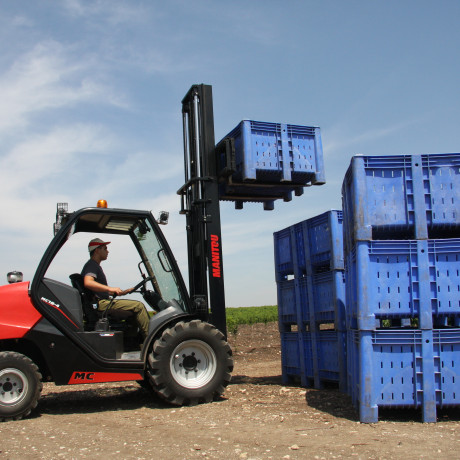 A rough-terrain forklift truck is a material handling machine capable of traveling over all types of ground, including uneven and uneven floors. Particularly robust, it remains efficient in the most extreme conditions of use.
Manitou rough-terrain forklifts have exceptional climbing ability. Whether on muddy, non-linear or gravel surfaces, they go where other machines don't go.
Forklift trucks also have the advantage of being able to handle all types of loads. Offering large lifting capacities, they help you to carry out all your operations: transporting heavy / bulky loads, loading/unloading, moving, dumping...
The versatility of the rough-terrain trucks is reinforced by their compatibility with a wide range of accessories. Fork positioner, bucket, tilting carriage, side shift carriage (integrated or attached)... By changing accessories, you can perform your different handling tasks with one and the same machine.
Manitou forklifts are equipped with high-performance equipment for perfect off-road maneuverability:
Large ground clearance
High-travel oscillating rear axle
Rough-terrain mast fixed directly to the chassis
Off-road tires designed to operate on degraded and uneven surfaces
Rough-terrain forklift trucks meet the requirements of many sectors of construction, industry and agriculture: sawmills, market gardeners, builders, public works, car recycling, mines... Semi-industrial models and certain classic ranges are also indispensable for a large number of industrial players.
discover our forklift trucks
Our different ranges of all-terrain forklifts
Manitou now offers two ranges of all-terrain forklift trucks:
Each range has several models with different characteristics. The compact versions are particularly ideal for working in confined work areas or narrow spaces. With Manitou, you're sure to find a machine that can precisely meet your specific needs.
The advantages of all-terrain forklift trucks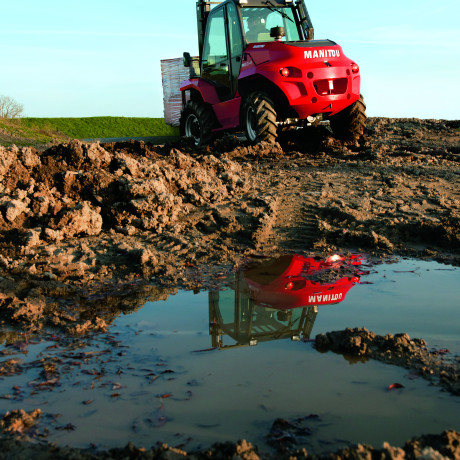 The Manitou all-terrain forklift trucks are full of advantages:
Exceptional crossing capacity on all types of ground
Maximum safety for operators
Comfort of use
Easy to drive
Several choices of masts available
Ergonomic driver's cab
360-degree visibility from the cab
High versatility
Wide choice of tires (off-road, but also mixed, grass/sand, low pressure)
Easy maintenance
Manitou Rough Terrain Forklifts have unique performance in the material handling solutions market. Their reliability is recognized by the most demanding professionals throughout the world.
Would you like to buy or rent a Manitou rough-terrain forklift truck? Your dealer will respond to your needs as soon as possible. Contact our professionals at any time to benefit from our personalized services.
Contact a dealer