Our Warehousing Solutions
Manitou offers you a wide range of warehousing equipment. From hand pallet trucks to articulated forklifts, stackers and order pickers, discover all the machines you need to store & warehouse your products comfortably and safely.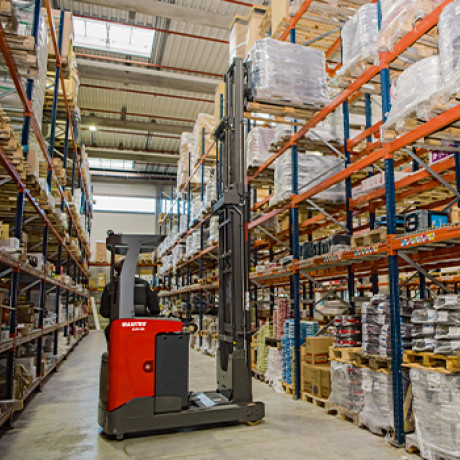 Optimize your storage/storage operations with Manitou ranges
Manitou warehousing solutions offer performance, versatility and safety in the material handling market. Combining robustness, ease of use and ergonomics, these material handling machines optimize your logistics and warehousing operations. Take advantage of their many benefits to save time on a daily basis and improve the productivity of your warehouses.
Solutions for demanding professionals
Manitou's warehousing solutions meet the needs of the most demanding professionals working in the logistics and storage field. Use our various handling machines to store & warehouse your products in ideal conditions of safety!
Manitou's main shopping ranges:
- Manual or electric pallet trucks (EH/EP ranges): ideal solutions for short and fast movements
- Manual and electric stackers (Stacky/Kleos/ES ranges): carry out your light or heavy handling operations efficiently (depending on the range)
- Articulated or reach trucks (EMA II/ER ranges): improve your storage capacity with these compact, high-performance trucks.
- Order pickers and industrial tractors (CT/CI ranges): the perfect tools to optimize logistics operations in your warehouses.
With Manitou, you are bound to find a warehousing solution adapted to your requirements. Our storage / warehousing equipment is renowned for its reliability, performance and durability.
see all warehousing solutions