Our range of STACKY Electric stackers
Transport and lift loads with the electric stackers of the STACKY range designed by Manitou. Equipped with a single mast, these machines are ideal for small pallet lifts. Optimize your stacking operations by equipping your storage areas with STACKY equipment.
Electric stackers for all your storage operations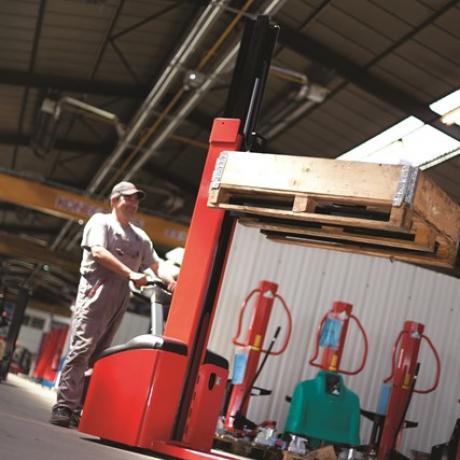 Manitou has a solid know-how in the design of handling equipment. Based on this expertise, our teams have designed electric stackers that are manoeuvrable, versatile and high-performance: the STACKY range.
The STACKY equipment helps you to carry out the stacking of your stocks of goods. Whether you want to lift, stack or store loads at low heights, our machines meet your needs.
The range offers stackers with a load capacity from 1000 to 1400 kg, to facilitate your warehouse work, logistical transport over short distances and ergonomics at the workplace. Compact and easy to use, they can operate in all areas of your warehouse, including confined and difficult to access spaces.
Our electric stackers are equipped with a single mast and can be completed with several easily interchangeable tools. You thus obtain a solution precisely adapted to your needs, whatever your activity.
The STACKY range guarantees particularly resistant handling equipment. Reliable and sturdy, it allows you to operate efficiently and safely and has all the necessary performance to ensure ergonomic use.
Versatile, the STACKY models are also an aid to production. Their characteristics make them electric stackers very much used by storage professionals. Combining compactness, performance, safety and reliability, they are ideal for improving your productivity and saving you time on a daily basis.
Discover our entire shopping offer
The advantages of STACKY stackers for storage professionals
The STACKY electric stackers designed by Manitou are nowadays references in the light handling market. A real help for operators, they adapt to all the sector's business constraints.
The advantages of STACKY stackers:
Easy to use
Lifting capacity from 1000 to 1400 kg
Compact equipment easy to transport, move and store
Versatility ensured by the possibility to easily change tools
Perfect maneuverability
High handling accuracy
Rugged and resistant design
Safe movement of loads and pallets
Contact our handling experts at any time and take advantage every day of the support services offered by our dealers throughout the world to optimize the use of your machines: maintenance, replacement of original parts, repairs, after-sales service, etc.
Contact our experts